The Best Little Christmas Shop by Maxine Morrey – Book Review
The Best Little Christmas Shop by Maxine Morrey – Book Review

The Best Little Christmas Shop
Author – Maxine Morrey
Publisher – HQ Digital
Pages – 384
Released – 3rd November 2017
Format – ebook
Reviewer – Stacey
I received a free copy of this book
Post contains affiliate links
Home for the holidays…
Icing gingerbread men, arranging handmade toys and making up countless Christmas wreaths in her family's cosy little Christmas shop isn't usually globe-trotter Lexi's idea of fun. But it's all that's keeping her mind off romance. And, with a broken engagement under her belt, she's planning to stay well clear of that for the foreseeable future…until gorgeous single dad Cal Martin walks through the door!
Christmas takes on a whole new meaning as Lexi begins to see it through Cal's adorable five-year-old son's eyes. But, finding herself getting dangerously close to the mistletoe with Cal, Lexi knows she needs to back off. She's sworn off love, and little George needs a stability she can't provide. One day she'll decide whether to settle down again – just not yet.
But the best little Christmas shop in this sleepy, snow-covered village has another surprise in store…
Review
Lexi has returned to her family home after an abrupt ending to her career as a chief engineer for an F1 racing team. She is hurt and disillusioned about what she is going to do next. For now she is concentrating on spending some time with her parents, brothers and their growing families.
Whilst back at home Lexi decides to help out in the families little village shop, 'The Four Seasons', this is where she first claps eyes on the gorgeous Cal Martin.
Cal is a businessman, the boss of her best friend Xander and single father to five year old George. Over the coming weeks the two have an obvious attraction to one another, but when Cal wants to be more than just friends, Lexi pulls away telling him that they shouldn't see each other again.
Lexi is keeping a secret from everyone, and she is not prepared to hurt the man she has fallen in love with, but will Cal just let her slip through his fingers?
This is the first book that I have read by Maxine Morrey and if this one is anything to go by I will have to catch up with her previous work. It's not very often that a book has such a hold on me that I spent until the early hours of the morning reading it, only to pick it up again as soon as I woke up.
The plot is very family orientated, which is just perfect for a Christmas book. I can't say any of the characters irked me. Yes, Lexi and Cal sometimes needed their heads banging together, but they were the characters that made this book so special, not forgetting adorable little George too.
I loved the vivid descriptions of a little snow covered village with Christmas decorations everywhere and warm friendly people. Maxine Morrey's writing style just swept me along as it naturally flowed. I was intrigued to find out what Lexi was keeping to herself, but Maxine certainly made me wait for the answer.
This is a book that you will fall in love with. Grab that cuppa, make yourself cosy and dive right into, The Best Little Christmas Shop, where you will laugh, smile, rejoice, but most of all feel warm and fuzzy inside. The perfect book to get you into that Christmas spirit.
Reviewed by Stacey

---
About the Author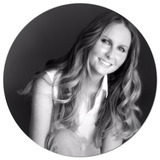 Maxine has wanted to be a writer for as long as she can remember and wrote her first (very short) book for school when she was ten. Coming in first, she won a handful of book tokens – perfect for a bookworm!
As years went by, she continued to write, but 'normal' work often got in the way. She has written articles on a variety of subjects, as well as a book on Brighton for a Local History publisher. However, novels are what she loves writing the most. After self publishing her first novel when a contract fell through, thanks to the recession, she continued to look for opportunities.
In August 2015, she won Harper Collins/Carina UK's 'Write Christmas' competition with her romantic comedy, 'Winter's Fairytale'.
Maxine lives on the south coast of England, and when not wrangling with words loves to read sew and listen to podcasts. As she also likes cake she can also be found either walking or doing something vaguely physical at the gym.




---