Time School: We Will Honour Them by Nikki Young – Book Review
Time School: We Will Honour Them by Nikki Young – Book Review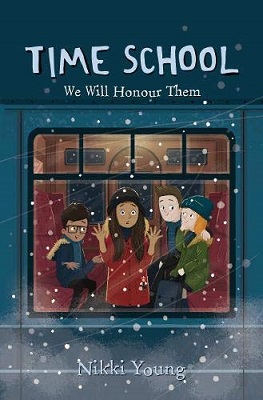 Time School
We Will Honour Them
Author – Nikki Young
Publisher – Hashtag Press
Pages – 112
Released – 23rd July 2020
ISBN-13 – 978-1916286443
Format – ebook, paperback
Review by – Stacey
Rating – 5 Stars
I received a free copy of this book.
This post contains affiliate links.


Nadia Kaminski knows very little about her Polish grandfather so how is she going to write a speech about him to read at his funeral? She's never really considered her Polish roots, so a trip back in time to time (to the end of the Second World War) and an encounter with Marcel, a Polish refugee, might be just what Nadia needs.
Along with fellow time-travellers, Jess, Tomma and Ash, this is the group's second experience of Hickley School in the past, and a chance to discover the struggles of those who found themselves stranded in a country that wasn't their own. It's time to board the train for another exciting journey back in time.

School Friends Jess, Nadia, Tomma, and Ash are back in the second instalment of 'Time School', a time-travelling adventure story. The first book, 'Time School: We Will Remember Them', saw the group catch the train to their school one morning but arrive in 1918.
This time Nadia's Polish Grandfather has recently died and she is asked to write a few words about him to read at his funeral. She doesn't have a clue where to start and has never thought about his Polish History.
Once again the children catch the train to school and once again they are taken into the past, this time to the end of the second world war. In war-torn Britain, Polish families who served with the Western Allies were unable to return to their homeland and so Britain set up the Polish Resettlement Corps, giving them refuge in the UK. Some of the locals though were not happy that they were in the UK and made life hard for the families.
The children meet Marcel, a Polish refugee who is being bullied because of his heritage and made to feel like an outsider by those at his school. Nadia and her friends try to help him but for Nadia history could have a very real effect on her future.
Time School: We Will Honour Them, is an amazing children's book that not only has a fabulous time travelling plot but is educational too. The four friends are wonderful company to share your time with and the situations in the book are very realistic.
Whilst it would be hard for any child to imagine what life must have been like for the refugees, this book will give them some understanding. It is also a book that children can learn from and understand the plight of refugees in today's society as well as how bullying makes the bullied person feel.
I adored the first book and this one was superb too. The pace was perfect, the writing just flowed and the storyline was enjoyable. Overall, this is an exciting and informative escapade back in time.
Book Reviewer – Stacey
---
Purchase online from:
---
About the Author

Nikki Young is a writer and lover of stories and 'The Mystery of the Disappearing Underpants' was her first book. Nikki credits her lively imagination to an amazing childhood, growing up in Yorkshire and living in a cul-de-sac in the days when children were allowed to run free and left to make their own fun!
Now a mum of three, she says that in her head, she hasn't really grown up and those memories of her childhood days remain strong and active.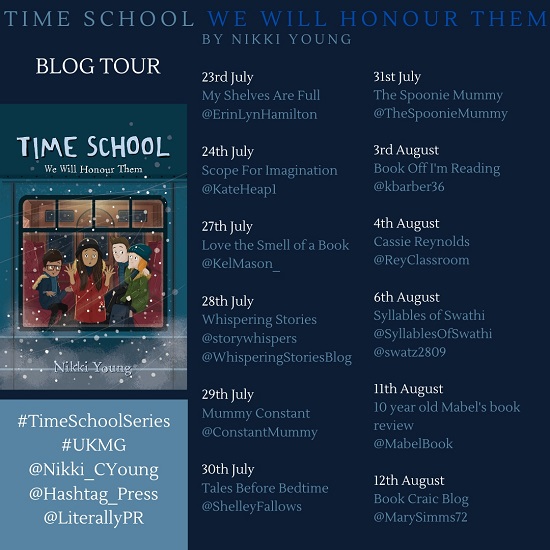 ---
What did you think of Time School: We Will Honour Them? Share your thoughts in the comment section below!
---
The above links are affiliate links. I receive a very small percentage from each item you purchase via these link, which is at no extra cost to you. If you are thinking about purchasing the book, please think about using one of the links. All money received goes back into the blog and helps to keep it running. Thank you.
Like us on Facebook – Tweet us on Twitter – Pin us on Pinterest