Time School by Nikki Young – Book Review
Time School by Nikki Young – Book Review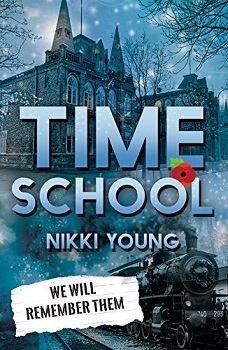 Time School
We Will Remember Them
Author – Nikki Young
Publisher – Troubador
Pages – 112
Released – 8th June 2018
ISBN-13 – 978-1789013153
Format – ebook, paperback
Reviewer – Stacey
Rating – 4 Stars
I received a free copy of this book
Post Contains Affiliate Links
A power cut and a series of mini disasters means friends, Jess, Nadia, Tomma and Ash barely make it to the station to catch their train to school. What they find is a far cry from the usual packed commuter train they're expecting…
When they arrive at Hickley School, the children are surprised to find some of the buildings missing and they don't recognise any of the other pupils, who are all dressed in a different style of uniform. The only person who takes the time to help them is Martha, despite being preoccupied by her own worries about her family being hungry and not hearing from brother, Henry whom she says is away fighting.
The children soon realise this is no normal day and it's not until they return home that they're able to figure out what happened. What they don't know is whether it was a one-off day, or if they will get to see Martha and the other pupils again. Jess hopes so. She has something she needs to tell Martha. Not knowing how or why, she feels a connection and an obligation to this girl she can't explain.

After a power cut in the middle of the night, friends Jess, Nadia, Tomma, and Ash are all running late for school. They live in a little village and travel to school via the train which leaves at exactly 8am. The friends just make their train by jumping into the last carriage.
Not long into the journey, they start to notice strange things, such as how old the coach they are in looks and also that the train is a steam train, not the usual electric train. Upon arrival at their stop, the friends jump out and realise that the journey has taken longer than normal. In a rush to get to school they don't notice the old fashioned cars, outfits the people are wearing, nor the cobbled streets. However, all that changes when they arrive at the school. It quickly becomes apparent that they have travel back in time to 1918 and the days just before the end of WWI.
How will the four friends cope in this time period and can they return to their own time?
Time School is the first in what I hope is going to be a series following the four friends, if not, it certainly should be. The book reads like an Enid Blyton novel. It is about a group of friends having an adventure and trying to work out why they have been sent back in time.
The book touches on subjects such as schooling, rationing, women going to work whilst the men were fighting in the war and the loss of life by young men fighting too. It doesn't go into any great detail on any of these subjects, but I presume this is because of the age the book is aimed at.
It is just over 100 pages long so won't take a child too long to get through it. This is a fun, clean children's mystery/adventure book. There is also a surprising, yet happy ending too.
Reviewed by Stacey
---
Purchase online from:
---
About the Author

Nikki Young is a writer and lover of stories and 'The Mystery of the Disappearing Underpants' is her first book. Nikki credits her lively imagination to an amazing childhood, growing up in Yorkshire and living in a cul-de-sac in the days when children were allowed to run free and left to make their own fun!
Now a mum of three, she says that in her head, she hasn't really grown up and those memories of her childhood days remain strong and active.




---