Alan's Big, Scary Teeth by Jarvis – Book Review
Alan's Big, Scary Teeth by Jarvis – Book Review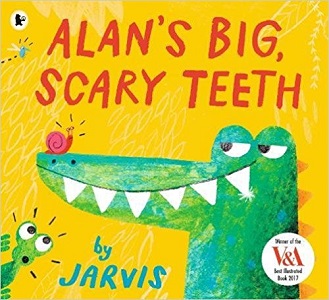 Alan's Big, Scary Teeth
Author – Jarvis
Publisher – Walker Books
Pages – 32
Released – 3rd May 2018
ISBN-13 – 978-1406381504
Format – paperback, boardbook
Reviewer – Stacey
Rating – 4 stars
I received a free copy of this book
Post contains affiliate links.
Meet Alan, an alligator with a secret. Famed for his big, scary teeth, he sneaks into the jungle every day to scare the jungle animals … "I'm big, scary Alan! Fear my razor-sharp teeth!"
But after a long day of scaring, Alan likes nothing better than to run a warm mud bath and take out his false teeth, which nobody knows about! That is, until his teeth go missing. What will Alan do now? Scaring is the only thing he knows how to do! Can he still be scary without them?
A goofy comedy of self-discovery now in baby-friendly board book format, warm-hearted storytelling and bright graphic art have made Alan's Big, Scary Teeth an award-winning children's favourite.

Alan the Crocodile likes to scare the other animals in the jungle. It's all he knows how to do. Every morning he polishes his scales, sharpens his nails, brushes each of his teeth for ten minutes and practices his frightening faces in the mirror, then he sets off to go and do some scaring. Returning home later that day filled with joy.
However, Alan has a secret. His big teeth are not real, they are false. When he loses his teeth he doesn't know what he will do as all he knows how is scaring the animals. Do you think they will still be frightened of a toothless Crocodile?
Alan's Big, Scary Teeth is a very funny young children's book about a Crocodile and his life of scaring the others in the jungle. I read the board book, which is great for little ones as they can be rough with the pages and not ruin the book.
The whole plot was enjoyable and I love what happens after the other animals find his teeth and give them back to him.
The illustrations are brilliant. I love the scary faces that Alan pulls. I also love the little items dotted around the images. Children might not notice them, but I'm sure the adults reading the book will – Eau De Gator perfume, The Jungle Times newspaper, etc.
Alan's Big, Scary Teeth is an enjoyable picture book, that is a whole lot of fun and I can see it becoming a firm favourite with kids.
Reviewed by Stacey
---
Purchase online from:
---
About the Author

Once upon a time, a guy decided to become a picture book maker. He tried really hard and even learnt how to do colouring in. And after meeting a whole load of really amazing characters he got to make some books.
Jarvis is an illustrator and animator who has worked as both a record jacket designer and an animation director. He lives in Manchester, England.



---