Meltdown! by Jill Murphy – Book Review
Meltdown! by Jill Murphy – Book Review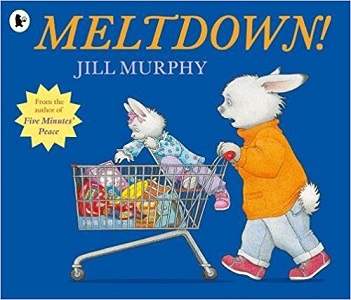 Meltdown!
Author – Jill Murphy
Publisher – Walker Books
Pages – 40
Released – 3rd May 2018
ISBN-13 – 978-1406373288
Format – paperback, hardcover
Reviewer – Stacey
Rating – 4 Stars
I received a free copy of this book
Post contains affiliate links.
From the bestselling author of The Worst Witch and the Large Family series comes a true-to-life, laugh-out-loud family comedy about a toddler tantrum.
Ruby the rabbit likes to be helpful, but she often gets a bit overexcited … especially in the supermarket. Crisps are so CRUNCHY! Tins of beans are fun to ROLL! And when Ruby sees a cake, a cake in the shape of a cute pink piggy, she wants it … she wants it now.
Introducing Ruby, a completely loveable new bunny, Jill Murphy observes the oh-so familiar supermarket sulk with all of her trademark warmth and wit, and perfectly depicts family life – in all its hectic glory – once again.

One day Mum and Ruby went to the supermarket. At first little Ruby was being helpful. She may not have done every job her mum gave her perfectly, but she tried. That was until her mum put a cake with a pig on it into the shopping trolley, Ruby's favourite cake.
Ruby wanted to hold the cake so her mum let her, then she squeezed the box a little too tightly and the cake fell out. She then wanted to eat the cake, now. Her mum told her no, so she screamed and shouted all the way around the shop, and all the way home, making her mum very cross with her.
The book is about Ruby and her mum and Ruby's bad behaviour. Her mum puts it down to tiredness, and us parent all know what tired toddlers can be like! I was reading further and further into the book, hoping that her mum didn't let her have the cake after her behaviour. To be honest we will never know as the book ends with Ruby saying sorry and asking for the cake.
Meltdown! reminds me of a shopping trip with my youngest son when he was about 2 years old. I'd put something in the basket he liked and he wanted it. He was told no, not until we got home, but he yelled and yelled. People were looking at us. Telling him off and reasoning with him didn't work. In the end, I just ignored him. he made such a fuss that I didn't even end up buying the item as I told him he was no longer allowed it. He actually never did it again. I'm very lucky in that respect.
I think the story is a useful one to show a child how not to behave. I think it would have been better had the book ended with the mum telling her she was no longer allowed the cake after she was very naughty, to show that bad behaviour doesn't get rewarded, but that is just my opinion.
The full-page illustrations are beautiful and the plot was enjoyable. I don't believe that this book shows bad behaviour in a good light, but rather is a good talking point for an adult to speak to a child about what is happening in the story and for them to communicate how naughty Ruby was being.
Reviewed by Stacey
---
Purchase online from:
---
About the Author

Jill was born and brought up in London and says that she can't remember a time she wasn't a storyteller/illustrator. By the age of six, Jill was stapling her own little illustrated storybooks together – her mum kept them all and she still has them today!
She left school at sixteen, and went on to attend both Chelsea Art School and Croydon Art School. Two years later, she finished her first novel The Worst Witch, about a little witch who doesn't fit in at her new school – a story she says was heavily based on her experiences at the convent. She sent it off to three big London publishers, who all turned it down, and Jill "put it in a drawer and decided to concentrate on other things instead."
After a spell working as a nanny and in a children's home, which she loved, Jill had a phone call from a small publisher interested in The Worst Witch. It was printed when she was twenty-four, sold out almost immediately, and Jill knew for sure she wanted to follow a career as an author/illustrator.
Jill wrote and illustrated numerous books since The Worst Witch was published, including three more books about little witch Mildred Hubble. Jill's work won her numerous prizes and awards.

---