The Ghouls of Howlfair by Nick Tomlinson – Book Review
The Ghouls of Howlfair by Nick Tomlinson – Book Review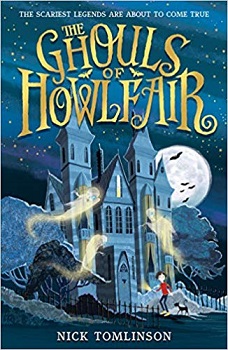 The Ghouls of Howlfair
Author – Nick Tomlinson
Publisher – Walker Books
Pages – 336
Released – 3rd October 2019
ISBN-13 – 978-1406386684
Format – ebook, paperback, audio
Review by – Stacey
Rating – 5 Stars
I received a free copy of this book.
This post contains affiliate links.
The scariest legends are about to come true!
Molly Thompson has lots of questions. Questions like, is her Aunt Carol an undead fiend who drinks the blood of the living? Is she secretly lurking in the attic? And is Molly's friend Lowry a descendant of a long line of Kroglin werewolves?
Serious young historian Molly suspects that the creepy legends about her tourist town of Howlfair are starting to come true. But when her mother bans her from doing any further research, bookworm Molly and her friends – scatty Lowry and guardian-cat Gabriel – become covert monster-hunters to keep Howlfair safe.
It seems that someone is secretly trying to summon Howlfair's mythical monsters, and with the election of a new town mayor looming, everything – and everyone – is becoming increasingly suspicious…

Molly Thompson lives at the Excelsior Guesthouse with her mum, the owner. Molly is a very inquisitive young girl who loves to investigate all the going on in the village she lives in, Howlfair. From trying to find out whether her Aunt is a vampire, to solving the case on whether her best friend Lowry is a descendant of Werewolves destined to change as the Blue Moon arrives.
Her mum is not very happy with her investigating the residents in the village and after Molly destroys some family heirlooms her mother bans her from doing any more investigating and removes her library card and tells her to take back all of her books. However, when one of the guests suddenly dies and Molly finds a note which states within it 'The Ghouls are Coming for me', Molly knows that she can't leave this mystery alone.
With her secret mission underway, she stumbles upon an ancient legend about a manor house, a previous owner and the way to summon monsters and a link between the man currently running for Mayor whose policy is that he is going to make Howlfair scary again. Is Molly on the right track? Is someone summoning ghouls? And can she stop them before more people are injured or frightened to death?
What an amazing book 'The Ghouls of Howlfair' is. Molly is such a brilliant protagonist, she is feisty, caring, and determined to out the truth about everything in her hometown. She does have some help though from her best friend Lowry who lets her hide her investigation stuff at her house. She also has her Gran who is in the hospital on her side and her beloved cat Gabriel too.
The book is so good, the plot is exciting and the writing just flows and makes you want to keep on reading. There is an adventure in each chapter which makes this book so hard to put down.
The book is humorous and mysterious and whilst not scary, it is a great introduction to books featuring potential ghouls, ghosts and monsters and is just perfect for this time of year. I do hope that we see more of Molly in the future as I believe she has some more investigations to be getting on with – Move over Sherlock there is a new detective in town!
Book Reviewer – Stacey
---
Purchase online from:
---
About the Author

Nick Tomlinson is a former English, Drama and Special Needs teacher, academic learning mentor, singing waiter and admin clerk. He has performed in a sell-out show at the Edinburgh Fringe, accidentally camped on a military target range in West Africa, and managed to pass his karate black belt grading despite choking on his gum shield.
A lifelong bookworm, Nick has been writing stories since he was five. His adult novel, Saint Valentine, was published by Transworld in 2004. Nick lives in Herefordshire.


---
What did you think of The Ghouls of Howlfair? Share your thoughts in the comment section below!
---
The above links are affiliate links. I receive a very small percentage from each item you purchase via these link, which is at no extra cost to you. If you are thinking about purchasing the book, please think about using one of the links. All money received goes back into the blog and helps to keep it running. Thank you.