The Back to Front World of Azzie Artbuckle by Beth Montgomery – Book Review
The Back to Front World of Azzie Artbuckle by Beth Montgomery – Book Review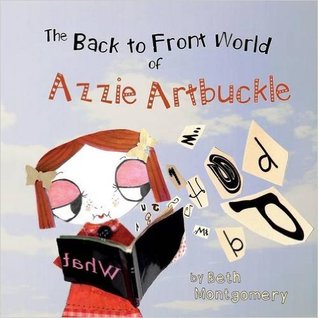 The Back to Front World of Azzie Artbuckle
Author – Beth Montgomery
Publisher – Your Stories Matter
Pages – 36
Release Date – 30th January 2017
ISBN-13 – 978-1909320659
Format – paperback
Reviewer – Stacey
I received a free copy of this book
Post Contains Affiliate Links

Azzie doesn't really like school. If she could spend every day drawing, painting and making stuff, things would be great. But she can't. The teachers make her do other stuff. This nearly always means she has to read from the board, a worksheet or a text book. The trouble is, she really really struggles to read letters, words and numbers. This makes her feel stupid. But she knows she isn't. If only she could tell someone …
This book has been written from the point of view of a child who feels misunderstood. She finds it very difficult to read, which makes school life a struggle. She feels stupid, even though she is clever and creative. She gets told off for messing around, when the truth is she can't do what is asked of her because she has a specific learning difficulty.
This illustrated book helps parents, teachers, and other adults who support children, have a non-threatening discussion about dyslexia with children of primary school age. Children find it easier to relate to, and discuss, the character in the story rather than have all the attention focused on them.
Using the book as a catalyst for discussion, adults can use the illustrated story at home or in school with children who have dyslexia, or exhibit dyslexic tendencies. Teachers can use the book to help classmates better understand their peers who may struggle reading. Similarly, parents can use the book to help children better understand family members.
This book was written and illustrated by someone who is herself dyslexic, and is based on her own life. She wanted to do something to help children who, years later, are still facing the same lack of understanding in school.
As with all of its books, the publisher – Your Stories Matter – aims to help people know they are not alone with what makes them different. If a young person or adult can relate to a story, it gives them hope and encourages them to share their concerns. The publisher aims to provide free teaching resources for all of its books that can be used in schools, to help improve understanding and celebrate differences.

Azzie Artbuckle loves art. It's her favourite subject at school, that's because she is clever and very creative, plus she doesn't have to do any reading or writing. Not because she is lazy, but because Azzie can't do either of them very well.
Whilst other children may take minutes to finish reading a page of writing, it would take Azzie all day. This made Azzie feel stupid. The words all just looked jumbled up. She also couldn't spell very well either.
Azzie tried and tried to read, but the more she tried, the harder it got. The harder it got, the more she hated doing it. The more she hated doing it, the more she hated school. Her mum, feeling Azzie's pain, took her to get her eyes checked. The optician said her eyes were fine, but referred her to a specialist doctor to check for any learning difficulties.
The specialist doctor diagnosed, dyslexia. Azzie wasn't stupid, she had a condition that made it difficult to understand words, letters and numbers. The diagnosis then meant that Azzie got the help she needed at school, which helped her to concentrate more, in turn making her like school once again.
The Back to Front World of Azzie Artbuckle, is a wonderful book that will help both children who have dyslexia understand their condition better, and for other children to be able to understand what dyslexia is, and how it can affect a person.
The book is beautifully illustrated throughout, and is certainly eye-catching. For such a short book, it covered the subject of dyslexia, and how Azzie felt throughout perfectly, without it feeling rushed.
I love books that don't only give children a lovely story, but are also informative as well, especially when they are written in a non-preaching manner. These are the types of books that help children remember factually information easily.
A wonderful book that would make a perfect addition to any school library.
Book reviewed by Stacey
Purchase Links

About Your Stories Matter
Based in Kendal, Cumbria Paul Johnson is the founder of Your Stories Matter and the parent publishing company Explainer HQ — which provides creative video, audio, animation and print to the business and education sector.
All Your Stories Matters titles are published in paperback and are available to order from online retailers.
Author Links