In their footsteps by K.L Loveley
In their footsteps by K.L Loveley
Today we welcome author K.L. Loveley onto our blog with her Guest Post 'In their footsteps', in which Ms. Loveley shares with us the authors that she admires and why, as part of the blog tour for her latest book, 'Love, Secrets and absolution'. Post contains affiliate links.
K.L Loveley is a former nurse, who has seen, heard, and dealt with a wide range of medical, social and family dramas. She has used her nursing experience, along with her excellent people-watching skills to create fascinating characters and intriguing scenarios within her books. She writes contemporary fiction, psychological dramas, and poetry.
Her debut novel Alice was published in February 2017, and the story tackles alcoholism head-on and presents the reader with an empathetic account of a spiraling addiction and the resulting pattern of hopelessness that many fall into.
K.L Loveley's second novel Love, Secrets, and Absolution: An emotional and gripping psychological, family drama is a coming of age story with a difference. Deceit, betrayal, love, and addiction, this story is about a family falling apart in the midst of teenage angst and torn loyalties.
K.L Loveley lives in Nottinghamshire, England and loves socialising with friends and family. She is an avid reader and enjoys a variety of genres including psychological, thrillers and historical fiction. Her favourite authors include John le Carré, K.L Slater, Marian Keyes and Philippa Gregory.
In their footsteps – The Authors I Admire

There are many wonderful authors, both male and female. However, when asked to name an author who I truly admire, I turn to history and nominate Jane Austen, who died at the early age of forty-one in the year 1817. By today's standards, such a short life and yet, her writing suggests a life well lived, in terms of the experience she poured into her books.
As a woman, dependent first on her father and then her brothers in terms of her financial security, there is no doubt, that her writing was, both a means of escapism and a desire to provide her own income. Considering that she was the daughter of a clergyman, I am in awe of the width and sophistication of her observations. I would imagine that Jane was exposed to a limited amount of acquaintances, bearing in mind the limitations of her social circle. Despite this and other variables, she created such interesting characters, who to my mind, are as interesting today as the time they were written. The prose is beautifully crafted into themes around: class, romance, love and money. My favourite being Pride and Prejudice. The title speaks volumes and would fit well in today's society with our current problems relating to issues around prejudice.
The character of Elizabeth Bennett, was way ahead of her time, when ladies of breeding were expected to be just that! To be used for the purpose of producing an heir and a few spares, to help in old age. She was determined to marry for love. A luxury not afforded to many women at that time. There is a strong message in her work related to her own feminine view. She quite deftly, puts this across in a subtle but humorous prose. I guess in many ways, Jane Austen was ahead of her time.
Now for someone completely different, who in fact would probably disagree with my first choice of author? Marian Keyes the Irish Novelist actually admitted on one of her video blogs that she isn't a fan of Jane Austen. Something to do with English literature at school. However, I am a great fan of Marian Keyes and her style of writing. There is a fundamental openness in her work, it is very refreshing and honest. Marian, develops such believable characters and brings them to life through her storytelling. Somehow, despite the story being either dark, tragic or simply heart-breaking, her humour shines through.
Stella Sweeney, the protagonist in The Woman Who Stole my Life is currently one of my favourite Marian Keyes characters. She is optimistic and upbeat and sees the good in everyone. Actually, as I am writing this, I almost feel a kindred spirit with this character and a certain likeness to myself. I digress. I find this story a fascinating account from a medical perspective, in terms of the disease process and subsequent recovery.
Despite the seriousness of the illness, the humour is abundant. For example, the way Stella describes her neurologist as the narky Range Rover man. In addition to the medical side of the story, her journey as an international bestselling author is quite fascinating and enlightening for me personally. How imaginative to write about a debut inspirational book with such an appropriate title, One Blink at a Time. The chemistry, Marian Keyes created between two fictional characters was quite extraordinary and so believable. The romance is not cloying and soppy, it is realistic and feisty.
Although, both of these authors are females born in a different century, they share the same skill of creating best-selling novels which are timeless.
---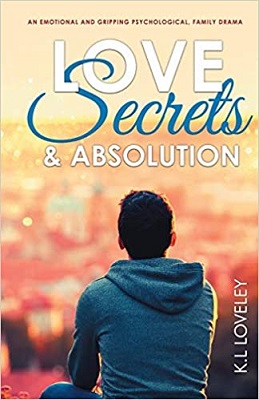 Love, Secrets, and Absolution
Author – K.L Loveley
Publisher – Globeflower Books
Pages – 270
Release Date – 1st November 2017
ISBN 13 – 978-1999829407
Format – ebook, paperback

People in the village gossip about Grace's son, Alfie. He's a lonely boy full of secrets, lies, and obsessive thoughts. How far can a mother's love go? Will she ultimately sacrifice her life for his?
Set in Nottinghamshire, this family drama follows the lives of Grace and Alfie as he transforms from a naïve, young boy into a teenager spiralling out of control.
Love, Secrets, and Absolution is a coming of age story with a difference. Deceit, betrayal, love, and addiction, a family falling apart in the midst of teenage angst and torn loyalties; will anybody find absolution?
Purchase Links

Author Links
www.klloveley.com
@K_L_Loveley
Facebook
Goodreads