88˚ North by J.F Kirwan – Book Review
88˚ North by J.F Kirwan – Book Review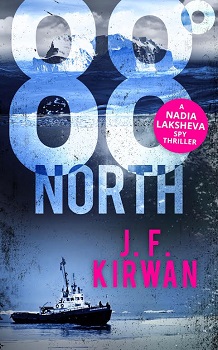 88˚ North
Nadia Laksheva Spy Thriller #3
Author – J.F Kirwan
Publisher – HQ Digital
Pages – 384
Released – 14th December 2017
Format – ebook
Reviewer – Stacey
I received a free copy of this book
Post contains affiliate links
Would you kill your loved one to save the world?
The world's most-wanted terrorist is on the loose, and this time the threat is global. To stop him, Nadia infiltrates his organization, from the triads of Hong Kong, to the refugee-smugglers of Sudan, to the Mafia gangs running oil platforms in Sakhalin.
But in the end, she must travel to the top of the world and confront her sworn enemy on the Arctic ice, where she will face a terrible choice.
Review
88˚ North is the third and final book in the Nadia Laksheva Spy Thriller and the second in the series which I have read. I read book two, 37 hours, earlier in the year.
The story carries on from 37 Hours with Nadia and her partner Jake, still searching for the elusive Salamander, the man who killed her family.
This time though, Nadia only had a few weeks to find and kill him as she is slowly dying of radiation poisoning from her time in Chernobyl.
Salamander is a ghost. He isn't a man easy to find, but she just might of gotten a breakthrough with the co-ordinates 88˚ North, taking her to the Arctic, hot on his trail.
Wow, what a book to end the series with. I absolutely adored 37 Hours, so I couldn't wait to get stuck into this book, and get stuck in I did. I just didn't want to put it down.
J.F. Kirwan has a knack for making you gasp out loud, as well as hold your breath in, with his action packed scenes that really do pack a punch.
Although the series mainly follows Nadia, there is a vast array of amazing secondary characters, all whom have their own parts to play, and they don't half play them well.
There was one secondary character that I wasn't sure if I was supposed to like her or not, especially at the beginning, Blue Fan. That woman is a super cool ninja with some kick ass abilities. She is also the daughter of Salamander.
This is one hell of a series that you don't want to miss. It is fast paced, exciting and suspenseful. The plot takes you in all directions, and keeps you on your toes. It is a breath of fresh air to have a thriller written about a tough woman who can definitely hold her own.
This is a prime example of how you write an outstanding thriller.
Reviewed by Stacey

---
About the Author

J. F. Kirwan is the author of the Nadia Laksheva thriller series for HarperCollins. Having worked in accident investigation and prevention in nuclear, offshore oil and gas and aviation sectors, he uses his experience of how accidents initially build slowly, then race towards a climax, to plot his novels.
An instructor in both scuba diving and martial arts, he travels extensively all over the world, and loves to set his novels in exotic locations. He is also an insomniac who writes in the dead of night. His favourite authors include Lee Child, David Baldacci and Andy McNab.





---