Tears of Sorrow by Dale A Swanson – Book Review
Tears of Sorrow by Dale A. Swanson – Book Review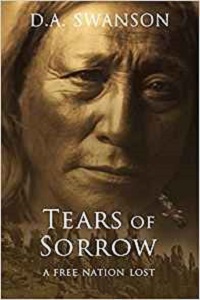 Tears of Sorrow
Sioux Indian Wars
Author – Dale A. Swanson
Publisher – Rainy River Press
Pages – 226
Released – 20th June 2018
ISBN-13 – 978-0986326745
Format – paperback
Reviewer – Clive
Rating – 4 Stars
I received a free copy of this book
Post Contains Affiliate Links
Anton McAllister leads his Dakota family west to escape the white backlash after the US-Dakota War of 1862. Settling into the Black Hills, they merge with the Miniconjou Lakota band of Lone Horn. Anton's adopted son, Four Wings, befriends the militant warrior Crazy Horse, and their world is turned upside down as they deal with disingenuous treaties, an illegal war brought on by the Grant Administration, and a deranged bounty hunter no larger than a child.
Sitting Bull, Red Cloud, Crazy Horse, and powerful men from the Cheyenne and Arapaho Nations make their stand when the army begins to build forts along the Bozeman Trail. Captain Fetterman and 80 men are killed near Fort Phil Kearny, and the 1868 Treaty of Fort Laramie is signed.
Red Cloud wins his war, the great herds of buffalo are methodically destroyed, the Ghost Dance is introduced to the Pine Ridge Reservation and brought to the Standing Rock Reservation. Crazy Horse and Sitting Bull are murdered, and Wounded Knee Creek becomes the death wail of a free Sioux Nation.
And throughout it all, Four Wings struggles to reconcile the good white men he has known, including the mixed blood who raised him, with those who seek to subdue or destroy the Sioux Nation.
After a five year wait Dale A. Swanson has now published Tears of Sorrow as a follow-up to his excellent The Thirty-Ninth Man. The story picks up shortly after the end of that book with some of the familiar characters. I have read both books and whilst my knowledge of the characters helped my understanding, Tears of Sorrow would also work as a stand-alone read.
The book has some wonderful descriptions of the majestic countryside of Dakota with its rocky peaks, wooded hills and lush valleys. He also describes the Native American lifestyle which could be brutal at times yet warm and affectionate on other occasions. There is also a wonderful sense of time being irrelevant, mainly because their needs are generally simple: food, shelter and warmth.
As before, Swanson describes historical events through the eyes of fictional characters and I felt he has produced a smoother narrative on this occasion. In my recent review of The Thirty-Ninth Man I commented that at times the joins between fact and fiction were a little obvious. This did not apply to Tears of Sorrow because the author kept the action within the perspective of his fictional characters.
The other variation was that this book covers a shorter span of time which again helps to maintain the flow.
What both books have in common is Swanson's love of Native American history and his understanding of the problems from all viewpoints. I know that many of today's US citizens accept that their government could have handled the situation better but Swanson also describes how many of the younger braves had an unrealistic view of their abilities against the US Army.
Regardless of the seriousness of this book it brought a smile to my face. The constant references to the Black Hills of Dakota kept Doris Day's voice in my head throughout. I have awarded four stars.
Reviewed by Clive
---
Purchase online from:
---
About the Author

Dale Swanson, born in Minneapolis, Minnesota, 1942, now makes his home in Prior Lake. Married since 1965, he has two children and four granddaughters.
He retired from Qwest Communications in 2008. Dale has taken writing classes at the University of Michigan and has been a member of The Loft Literary Center, Minneapolis, since 2003.






---
Blog posts straight to email via Bloglovin – Like us on Facebook – Follow us on Twitter