The Land Without Color by Benjamin Ellefson – Book Review
The Land Without Color by Benjamin Ellefson – Book Review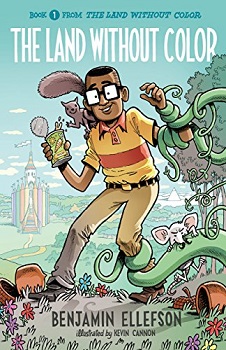 The Land Without Color
Author – Benjamin Ellefson
Illustrator – Kevin Cannon
Publisher – Beaver's Pond Press
Pages – 154
Released – 15th December 2015
ISBN-13 – 978-1592988440
Format – ebook, paperback
Reviewer – Stacey
Rating – 4 Stars
I received a free copy of this book
What If You Were Transported to a Land Without Color? And the Only One Who Could Restore it Was You?
When Alvin gets a mysterious pack of gum for his birthday, he of course blows a bubble as large as he can. But when that bubble carries him away to a far-off land where everything is gray, he's in for the adventure of his life, and more than a little danger.
Because he's the only one who can restore the Kingdom of Color to its former glory. To do it, Alvin has to battle man-eating plants, outsmart the bumbling Crimson Guards, cross the Sugar Dessert, overcome the two-headed dragon, and find the color-stealing goblins. It's dangerous. Scary. Impossible! But it's the only way to restore color to the kingdom.
In the multi award winning, The Land without Color, Benjamin Ellefson has crafted a middle grade tale full of fantasy and wonder that will capture young reader's minds, as well as their hearts.
Brandon and his friends had gone fishing but they soon realised that no-one had brought anything to cut the fishing line with. With his Grandpa living a few houses away the group mounted their bikes and set off to borrow a pair of scissors.
Grandpa Alvin was gardening when the group turned up. Alvin told them he had something better than scissors for cutting the line, he had a pocketknife that had been given to him by his Great-Great-Grandfather and how it had saved his life numerous times after he had ended up in the 'Kingdom of Color' (which turned out to be all gray) after blowing a giant bubble and floating away.
The Land Without Color is a magical book with a whole host of fabulous characters – Including animals that talk. The book starts off in the present day and then jumps back in time to when Grandpa Alvin was a young boy and his adventures after his birthday present – bubble gum – took him to a weird and colourless world.
The plot is essentially an adventure with a good versus evil storyline and twelve-year-old Alvin is our protagonist/hero. When I first began reading I pictured the scene in ET where the group of friends jump on their bikes and ride down the road together. When we arrive in the Kingdom of Colour, ET turned into The Wizard of Oz. It was a strange mixture but it really worked.
For those older children looking for a book filled with suspense, fabulous characters and something to really sink their teeth into, then this is the book to choose. There are even illustrations throughout that seem to bring the story to life.
This is the first book in a series and I can see kids rushing to get the second book the moment they have finished this one.
Reviewed by Stacey
---
Purchase online from:
---
About the Author
A lover of whimsical adventures for children of all ages, author Benjamin Ellefson studied storytelling at the University of Southern California. Now with four daughters who love to hear his stories, he focuses his writing on modern fairy tales that are fun for kids and thought provoking for adults.
Each adventure celebrates the important values of self-reliance, preparedness, and diversity.





---
Blog posts straight to email via Bloglovin – Like us on Facebook – Follow us on Twitter