Monty and Friends Save Christmas by M. T. Sanders – Book Review
Monty and Friends Save Christmas by M. T. Sanders – Book Review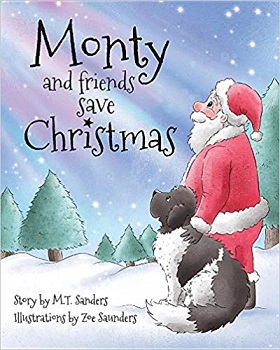 Monty and Friends Save Christmas
Author – M. T. Sanders
Publisher – 2QT Limited
Pages – 36
Released – 5th October 2018
ISBN-13 – 978-1912014415
Format – paperback
Reviewer – Stacey
Rating – 5 Stars
I received a free copy of this book
Post contains affiliate links.
When Santa visits Monty's house, things don't quite go to plan.
Cookie has managed to scare the reindeer's away and they are nowhere to be seen. Children around the world are waiting, but who will pull the sleigh?
It's going to take a massive effort to save Christmas… and time is running out.
A magical festive story of friendship and overcoming the odds.

It was late Christmas Eve and Santa was making his way from house to house. That was until Cookie the Puppy heard a noise outside and thought it was her owner dressed in red. All excited she had managed to open the door and jumped up and knocked Santa over and was now covering him in kisses.
She had also made the Reindeer's run away in fright. Santa was sad, what was he going to do? He had a sack full of presents but no way of getting to all the boys and girls. Monty offered to help, him and his friends. But how can a group of dogs pull Santa's sleigh all over the world, they can hardly fly, or can they?
Monty and Friends Save Christmas is an amazing, beautifully written book featuring the lovable Monty. The story is told in a rhyme and with the full page bright, colourful illustrations this book is a must-read for Christmas, especially as it features the big man himself, yes Santa.
I just adored this book, and it's not very often that I really gush over a book, especially a children's book, but this one is truly worth it. It was so enjoyable from the first page to the last and I can see it becoming a firm favourite with young children, especially at this time of year.
If you only buy one bedtime story to read on Christmas Eve to your little ones, make sure it is Monty and Friends Save Christmas as it is absolutely amazing and festive too, plus, it has so much Christmas Spirit within the pages, alongside the wonderful story.
Reviewed by Stacey
---
Purchase online from:
---
About the Author
Monty is a Newfoundland dog who enjoys nothing more than writing books poetry and blogs helped by his hoomans. I'm not a Pandacow is the first in a series of books about Monty's adventures and has proved an instant hit. Apart from his literary skills Monty is an accomplished fundraiser for various charities and regularly visits schools and nursing homes.
MT Sanders the hooman author has now written three books with the help of his trusty sidekick, I'm not a Pandacow released in April 2017 and currently sold over 2000 copies. Monty and the Slobbernosserus was the very successful follow up and June 2018 sees the third book in the series Monty and Poppit Dragon.
There is also a new Christmas story featuring the dogs.



---