What a Wonderful Phrase by Nicola Edwards – Book Review
What a Wonderful Phrase by Nicola Edwards – Book Review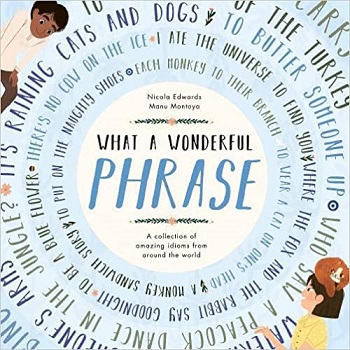 What a Wonderful Phrase
A collection of amazing idioms from around the world
Author – Nicola Edwards & Manu Montoya
Publisher – Caterpillar Books
Pages – 72
Released – 5th August 2021
ISBN-13 – 978-1838913274
Format – hardcover
Rating – 5 Stars
I received a free copy of this book.
This post contains affiliate links.


Synopsis
This beautifully illustrated and witty book is filled to the brim with curious phrases from around the world. Travel from country to country and learn the history behind interesting and unusual idioms, and the greater cultures which shaped them.
From the endearing French phrase "to be a blue flower" to the fascinating Japanese saying "to wear a cat on one's head", this book explores the diversity and importance of language worldwide. Younger readers will love sharing these quirky phrases with their friends and discovering more about the world we live in.
Beautiful artwork from Manu Montoya and captivating text from the author of What a Wonderful Word perfectly capture the intricacies of global cultures.
What a Wonderful Phrase: A collection of amazing idioms from around the world is a fun, educational, and more importantly interesting book about phrases that are well known from around the world. Most English-speaking people know phrases such as 'Let the cat out of the bag' or 'Hit the sack' but have you ever heard of – 'To be a Blue Flower'?
Within this book, you will find idioms that are well known in French, German, Korean, Persian, Spanish, and many more. Some of the idioms were easy to decipher, whilst others I needed the explanation below to help me understand what they meant.
Included are phrases such as the Swedish saying 'There's no Cow on the Ice' meaning 'There's no Rush', and 'To Comb the Giraffe' which in France means 'To Waste Time on Something Pointless'.
Each double-page gives you the idiom in English. Above that is how it is written in the language it comes from and a breakdown of how to say the phrase. It then tells you what language it comes from, what the translation is, and a detailed summary of what the idiom actually means and where it comes from. There are also amazing illustrations showing a representation of the idiom.
I love learning and so this book, even though a children's book, taught me a lot in an interesting and engaging manner. This is a book for children who crave knowledge. It is easy to understand and written in a way that doesn't feel like you are being educated.
Purchase Online From:
---
What did you think of 'What a Wonderful Phrase'? Share your thoughts in the comment section below!
---
The above links are affiliate links. I receive a very small percentage from each item you purchase via these link, which is at no extra cost to you. If you are thinking about purchasing the book, please think about using one of the links. All money received goes back into the blog and helps to keep it running. Thank you.
Like us on Facebook – Tweet us on Twitter – Pin us on Pinterest – Join us on Instagram