The Sidewinder by Simon Maltman – Book Review
The Sidewinder by Simon Maltman – Book Review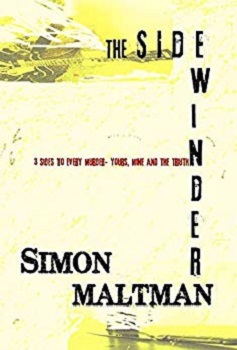 The Sidewinder
Author – Simon Maltman
Publisher – Solstice Pub
Pages – 191
Released – 10th October 2018
ISBN-13 – 978-1625268457
Format – ebook, paperback
Reviewer – Marcia
Rating – 3 Stars
I received a free copy of this book
There are three sides to every murder – yours, mine and the truth.
The Sidewinder is the new multi narrative mystery thriller from Northern Irish Amazon Bestseller Simon Maltman.
When two members of a former nineties band die in suspicious circumstances, the surviving members are embroiled in a web of murder, revenge, love and deceit. Follow the now politician, journalist, session musician and police officer as they attempt to uncover the truth, through many dark twists and turns. Nothing is as it appears in The Sidewinder.
What gripped my attention when I read the synopsis for the book was 'multi-narrative', I love multi-narrative books and this one didn't disappoint. I have to say there was one voice that stood out above all the rest though, for me this was Journalist Andrew.
The story is set in Belfast, Ireland and is split into three sections. There are a lot of voices and the timeline switches between the present and the past when Andrew was in a band. In the present day, one of the ex-band members has been found dead. The report into his death has Andrew convinced something isn't right. He then begins to look closer at the death of another bandmate, Ted, who died whilst they were on tour.>
The book is only 191 pages long. If it was longer some areas could maybe have been developed further and we would have got a real taste for what was going on. Unfortunately, with most shorter books whilst the pace is fast and the plot comes at you thick and fast, some of the substance seems to be left out meaning that we don't get enough meat and I really feel this is needed with a multi-narrative book and especially a thriller.
The book was not what I was expecting from the synopsis, yet, I still invested my time to see how it all worked out and I really did enjoy it, especially the last part. I did like the switching from the past to the present to tell the story as this was done effortlessly and you always knew where in the plot you were. Even if it was different from what I was expecting, it was still a good read.
Reviewed by Marcia
---
Purchase online from:
---
About the Author
Crime fiction novelist and short story writer from NI. Member of the International Thriller Writers.






---
Blog posts straight to email via Bloglovin – Like us on Facebook – Follow us on Twitter