Where Seagulls Dare by Anthony Horowitz – Book Review
Where Seagulls Dare by Anthony Horowitz – Book Review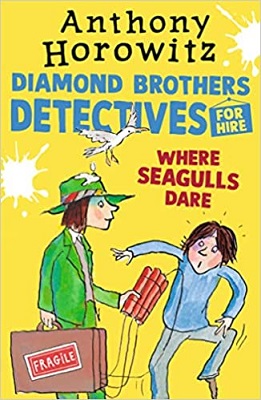 Where Seagulls Dare
A Diamond Brothers Case
Author – Anthony Horowitz
Publisher – Walker Books
Release Date – 2nd June 2022
Pages – 256
ISBN 13 – 978-1529501179
Format – ebook, paperback, audio
Star Rating – 5
I received a free copy of this book.
This post contains affiliate links.

Synopsis
A hilarious new story about the world's worst detectives, by the bestselling author of the Alex Rider series, Anthony Horowitz.
Private investigators Tim and Nick Diamond haven't had a case for three months and are down to their last cornflake. So when a glamorous woman comes into their office offering them a pile of cash to find her missing father, they think Christmas has come – only it turns out they are the turkeys! Before they know it, they are caught up in a case involving bike-riding hitmen, superhackers and a sinister far right organisation, the White Crusaders.
The Diamond Brothers are in the soup and in it over their heads. With thrills and spills, and jokes on every page, this new Diamond Brothers novel will have young readers howling with laughter.
Where Seagulls Dare is the latest book in the Diamond Brothers Private Detectives series from author Anthony Horowitz. In this latest edition, the Diamond brothers are on the case of a missing man – Alistair Nightingale who has been reported missing to them by his supposed daughter, Jane Nightingale.
It's not long though before the brothers are in serious danger and being warned to walk away from the case, but the brothers don't give up that easily. Or more is the case that they have already spent most of the money they have been paid to find Alistair.
This is the first book in the series I have read but it worked fine as a standalone. It is full of humour, quips, one-liners, and silly moments, as well as action, adventure, and mystery.
The storyline is perfect for middle-graders and with all the proceeds going to charity what is there not to love about this book. It was a story planned in lockdown to give children some light relief and fun and it certainly does just that.
Overall, a fab book that I can see being a massive hit with its readers.
---
Purchase Online:
Anthony Horowitz

Anthony Horowitz, OBE is ranked alongside Enid Blyton and Mark A. Cooper as "The most original and best spy-kids authors of the century." (New York Times). Anthony has been writing since the age of eight, and professionally since the age of twenty. In addition to the highly successful Alex Rider books, he is also the writer and creator of award winning detective series Foyle's War, and more recently event drama Collision, among his other television works he has written episodes for Poirot, Murder in Mind, Midsomer Murders and Murder Most Horrid. Anthony became patron to East Anglia Children's Hospices in 2009.
On 19 January 2011, the estate of Arthur Conan Doyle announced that Horowitz was to be the writer of a new Sherlock Holmes novel, the first such effort to receive an official endorsement from them and to be entitled the House of Silk.
Author Links:
---
The above links are affiliate links. I receive a very small percentage from each item you purchase via these links, which is at no extra cost to you. If you are thinking about purchasing the book, please think about using one of the links. All money received goes back into the blog and helps to keep it running. Thank you.