No Sleep for Bear by Duncan Beedie – Book Review
No Sleep for Bear by Duncan Beedie – Book Review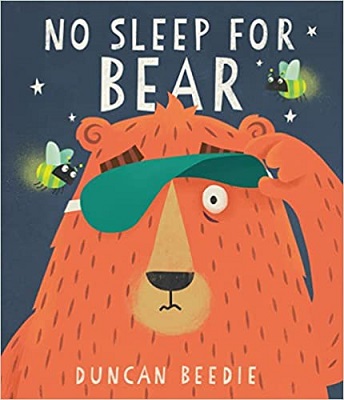 No Sleep for Bear
Author – Duncan Beedie
Publisher – Templar Publishing
Release Date – 7th July 2022
Pages – 40
ISBN 13 – 978-1787419865
Format – Paperback
Star Rating – 5
I received a free copy of this book.
This post contains affiliate links.

Synopsis
Bear is back! The lovable hero of Waterstones Children's Book Prize shortlisted The Bear who Stared is getting into more scrapes in this irresistible follow-up title from Duncan Beedie.
Winter is approaching and it's time for Bear to have a nice long sleep . . . but the more he tries to get to sleep, the more AWAKE he feels. So he decides to copy his forest friends who seem to doze off without any trouble: he sings in the trees like Blackbird, burrows underground like Badger, and even hangs upside down from his cave-roof like a bat. But nothing works – until wise Frog shows him how to relax, and soon the forest is reverberating with his snores!
A perfect bedtime story which will strike a chord with all parents of fidgety, wriggly, wide-awake children!
No Sleep for Bear is such a beautiful story and the perfect book for a bedtime read. Winter is fast approaching and Bear needs to hibernate in his cave but he can't get to sleep.
He sees other animals going to sleep so he decides to copy their bedtime habits to see if it helps him, but none do until he meets Frog who gives him some words of wisdom that make him fall fast asleep, unfortunately, in the wrong place.
I adored this read. It had a wonderful cosy storyline, featuring a loveable bear, and was complimented by some imaginative artwork that had darker colours and made you feel a little sleepy just looking at them.
I loved how Bear tried different methods for getting to sleep but when it came down to it, it was something simple that worked.
Overall, this is a fabulous book and one I am sure little ones will enjoy from cover to cover.
---
Purchase Online:
Duncan Beedie
Duncan Beedie is an author and illustrator with more than fourteen years' experience working in children's media. He began his career in children's TV as an animator before branching into design and animation for websites, games, and educational apps.
He was a doodler from a very early age and has fond memories of being sprawled on his parents' living-room floor drawing for hours. He lives in Bristol, England, with his wife, daughter, and tirelessly playful springer spaniel.
Author Links:
---
The above links are affiliate links. I receive a very small percentage from each item you purchase via these links, which is at no extra cost to you. If you are thinking about purchasing the book, please think about using one of the links. All money received goes back into the blog and helps to keep it running. Thank you.