Penguin Problems by Jory John – Book Review
Penguin Problems by Jory John – Book Review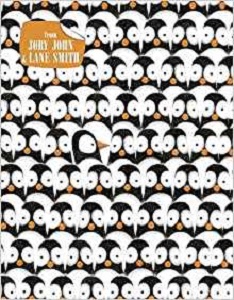 Penguin Problems
Author – Jory John
Publisher – Walker Books
Pages – 32
Released – 2nd November 2017
ISBN-13 – 978-1406379150
Format – paperback, hardcover
Reviewer – Stacey
I received a free copy of this book
Post contains affiliate links
Little Penguin has problems: his beak is cold; there's snow everywhere; the water smells salty; he waddles; he looks the same as everybody else. No – it's not easy being a penguin!
In this hilarious first collaboration from Jory John and Lane Smith, a penguin levels with human readers about what penguin life is really like … and it isn't all fun and games!
Have you ever considered running away to Antarctica? Of course you have! Because it's a land free of worries and responsibilities! Think again, my friend.
This penguin has come to tell you that his life down there is no picnic. For starters, it is FREEZING. Also, penguins have loads of natural predators. Plus, can you imagine trying to find your mum in a big crowd of identical penguins? This book is sure to tickle all funny bones, and will elicit appreciative sighs from the adults reading it aloud, too!
Review
Penguin Problems is an interesting short children's book. It is A4 in size and filled to the brim with mainly black, white and orange illustrations that have a matt hand-drawn look to them. The text is orange too, and there aren't too many words on each page, meaning it wouldn't be overbearing for a child learning to read.
The story is about a penguin who really doesn't like being one. The place is too cold, there are lots of creatures in the ocean trying to eat him, everyone looks the same, and on and on he goes. One day he meets a walrus who tries to teach him to be appreciative of his situation and surroundings, but will he listen?
This is a lovely little book which is fun to read. It is imaginative, cleverly written and it will make children giggle at the grumpy little penguin and his 'problems'. The illustrations also capture the penguins expressions perfectly.
This is a great book that will make a child smile. It would also be perfect for a gift for a young child too (especially with Christmas arriving soon).
Reviewed by Stacey

---
About the Author

Jory John is a New York Times bestselling author of books for both children and adults. He is a two-time E.B. White Read-Aloud Honor recipient.
Jory's work includes the New York Times bestselling novel The Terrible Two, the award-winning Goodnight Already! series and the national bestseller All my friends are dead. His most recent picture books are Penguin Problems (illustrated by Lane Smith) and Quit Calling Me a Monster! (illustrated by Bob Shea).
Jory's forthcoming picture books include The Bad Seed (illustrated by Pete Oswald) and Can Somebody Please Scratch My Back? (illustrated by Liz Climo).
Jory has also written for the New York Times, the San Francisco Chronicle, the Believer, McSweeney's Internet Tendency and BuzzFeed, among many other publications. His projects have also been featured in The Best American Nonrequired Reading.
For more than six years, Jory worked as the programs director at 826 Valencia, a nonprofit writing and educational center in San Francisco's Mission District, founded by Dave Eggers.



---