The Lion and the Dog by Patricia Furstenberg – Book Review
The Lion and the Dog by Patricia Furstenberg – Book Review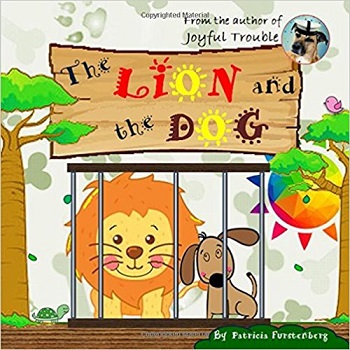 The Lion and the Dog
Author – Patricia Furstenberg
Pages – 26
Released – 2nd November 2017
ISBN-13 – 978-1973208594
Format – ebook, paperback
Reviewer – Jodie
I received a free copy of this book
Post contains affiliate links
Here is a beautiful picture book with musical rhymes that celebrates diversity and promotes kindness, sure to strike a chord with the many fans of Louis Armstrong's "What a Wonderful World".
When a lion is removed from his natural habitat, forced to leave his African land and his pride behind and crowned King of Animals in a zoo, but acts out and becomes a secluded, captive beast all humans give up hope. Only a patient and observant brown little dog stands by his side and, through his optimism and kindness, turns the beast into a friend for life.
Inspired by the true story of Bonedigger, the disabled lion and the friendly Dachshund Milo who proved that friendship knows no boundaries, "The Lion and the Dog" is a brilliant, colourful tale that shines when read aloud and is a definitive must-have for all collections.
Review
The lion has had to leave his homeland in Africa, and go and live in a zoo. It is so far removed from his natural habitat that he becomes unhappy and grumpy. The humans at the zoo seem to give up on him and he appears to get forgotten about. It's not until a little brown dog shows him love and friendship that the lion begins to live again.
The book was inspired by a true story of a disabled lion and an affectionate little Dachshund. These two animals form an unlikely bond. Following daily visits from the little dog, the lion begins to cheer up. He soon appreciates how much of a friend the dog has become to him.
I like the important underlying messages behind the story. It shows that friendship can happen despite being from two different races. The dog doesn't give up on the lion. His faith and daily persistence in trying to cheer the lion up is rewarded with a lovely friendship. That is what friendship is about – supporting one another and being there despite the hurdles. Friends don't give up.
The story is in rhyme format. The words don't always rhyme in a fluid sense. I didn't think this mattered. What's important is the story and the messages behind it.
The illustrations are bright and depict what is happening in each stage of the story. There are lots of other animals to spot in the illustrations. My daughter enjoyed pointing them out and naming them as I read the story to her. She was sad for the lion but was so pleased when the lion became friends with the dog and cheered up.
This is a lovely, heart-warming story for children to enjoy.
Another excellent book from Patricia Furstenberg.
Reviewed by Jodie

---
About the Author

Patricia Furstenberg came to writing though reading, her passion for books being something she inherited from her parents. She usually writes at her kitchen table, early morning while the kettle hums or in her car, while she waits for her children to come out from school. "When I write, I write," she usually says. When she's not writing she likes to read, listen to music, dance and bake.
One of the characters portrayed in her children stories is Pete, the yellow toy elephant. Not many know, but Pete exists and lives in Pat's home.
This Romanian born writer is living happily with her husband, children and dogs in sunny South Africa.






---