Faruq and the Wiri Wiri by Sophia Payne – Book Review
Faruq and the Wiri Wiri by Sophia Payne – Book Review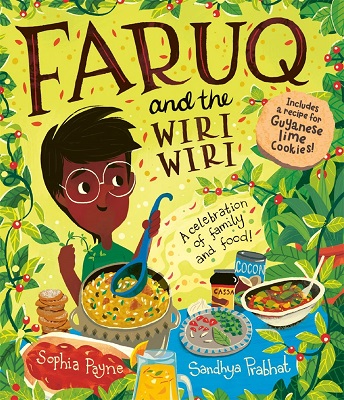 Faruq and the Wiri Wiri
Author – Sophia Payne
Illustrator – Sandhya Prabhat
Publisher – Templar Publishing
Release Date – 16th March 2023
Pages – 40
ISBN 13 – 978-1800782624
Format – Paperback
Star Rating – 5
I received a free copy of this book.
This post contains affiliate links.

Synopsis
A Caribbean celebration of family and food – with a spicy twist!
There is not a better smell in the world than Ajee's Cook-up rice. The kitchen fills with the smell of coconut, garlic and spices. Faruq loves his grandmother Ajee, and he loves her cooking. In fact, Faruq would like to cook too – he wants to be a chef, but Ajee says he has to be a doctor like his father.
But one day when Ajee is too ill to make the family feast, with the help of his neighbour Mrs Joseph, Faruq picks some hot wiri wiri chilli peppers and cooks up a banquet. Preparing food for his family fills Faruq's heart with love – and sets a different course for his future.
This sumptuous story celebrates Caribbean culture and food through Sophia Payne's distinct voice that is reflective of her Indo-Guyanese heritage and is brought to life by Sandhya Prabhat's beautiful artwork. It also includes a recipe for Guyanese Lime cookies for you to try at home!
Who doesn't love a bright colourful book set in a beautiful Caribbean location and filled with glorious food? Faruq and the Wiri Wiri features all this and much, much more.
Faruq is a young boy living in Guyana. He loves food and wants to help cook but he is told that he needs to forget this as studying is more important and that he is to become a doctor.
One day his neighbour offers to teach him to cook and Faruq loves it and is a natural in the kitchen. His family soon realise that sometimes it better to let children follow their dreams.
Faruq and the Wiri Wiri is a real mix of vibrant illustrations, meaningful words, and mouth-watering foods – Oh how I wish this book was filled with the scents of the food too. It features adorable Faruq who doesn't understand why boys can't be chefs and his loveable neighbour who takes him under her wings and decides to teach him how to cook if his family won't.
From the first page to the last children will be invested in this book. It is such a beautiful read and even features a recipe at the back of the book for Lime Cookies too which sound delicious and will be being made very soon.
I hope that this is the start of a wonderful series of books from author Sophia Payne about Faruq and his cooking, as I'm sure the books would be a big hit and open doors to a culture that many young children most likely don't know about, including foods they probably will never have heard of either. Like I'd never heard of Wiri Wiri (peppers) until I read this book 🙃.
---
Purchase Online:
Sophia Payne
Sophia Payne discovered her passion for writing after a long-standing career in technical support. She now writes picture books and steers clear of broken computers! Sophia was born and raised in the UK and is half Guyanese, half British. Her writing reflects her Indo-Caribbean heritage, and she lives by the mantra 'be curious, not judgemental.'
Author Links:
---
The above links are affiliate links. I receive a very small percentage from each item you purchase via these links, which is at no extra cost to you. If you are thinking about purchasing the book, please think about using one of the links. All money received goes back into the blog and helps to keep it running. Thank you.