Mighty Monty by M.T. Sanders – Book Review
Mighty Monty by M.T. Sanders – Book Review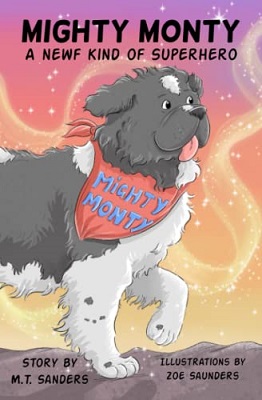 Mighty Monty
Author – M.T. Sanders
Illustrator – Zoe Saunders
Release Date – 9th May 2022
Pages – 178
ISBN 13 – 978-1739704902
Format – ebook, paperback
Star Rating – 5
I received a free copy of this book.
This post contains affiliate links.

Synopsis
When Monty and Molly fall into a huge cavern in the woods it seems like an awful accident. It soon becomes clear though that this is not an accident at all as they find themselves in a strange room greeted by two mysterious dogs. They inform Monty he's been chosen to become a superhero and can chose his superpower.
Monty wants hoomans to be nicer so he's given the power of being able to deliver K9indness through the fast air release tool (F.A.R.T)
This sets off a series of adventures for Monty and the gang as they seek out those needing K9indness the most. But in the background, there is an evil power who is determined to steal Monty's power for himself.
Author M.T. Sanders has written numerous children's picture books and a memoir featuring Monty, a Newfoundland dog, who unfortunately recently crossed that rainbow bridge. Mighty Monty is his latest book featuring Monty, though this one is aimed at more middle-grade children.
In this highly amusing and comical story, we meet Monty and his fellow dog brothers and sisters whilst they are out for a walk. Whilst trying to stop one of the Spangles from falling into a deep hole, Monty and the Spangle Molly both tumble in it and are knocked out.
They awake in a secret bunker where Monty is told that K9HQ have been watching him for some time and that they want to give him a superpower as they like to make all dogs with the right temperament and character a superhero. They then let Monty choose his own power.
After thinking for a long time Monty decides that he wants k9indness to be his superpower, though I don't think he thought that his k9indness would be distributed by firing particles from his backside in a process called F.A.R.T.
From the brief description above you can tell how wonderfully silly and humorous this book is. However, it is also filled to the brim with lovely moments and messages about kindness that hopefully children will adopt and share with others.
I loved this book, with its adorable canine characters and adventure-filled story Mighty Monty was simply a delight to read. It is also filled with beautiful black and white illustrations throughout that bring the words to life.
---
Purchase Online:
M.T. Sanders
Monty was a Newfoundland dog who enjoyed nothing more than writing books poetry and blogs helped by his hoomans. I'm not a Pandacow is the first in a series of books about Monty's adventures and has proved an instant hit. Apart from his literary skills Monty was an accomplished fundraiser for various charities and regularly visited schools and nursing homes.
M.T. Sanders is a writer, blogger and author of the children's books.
An accidental career began after he took early retirement and began writing stories on social media about his five dogs. Life according to Monty Dogge soon attracted a huge following and led to invites to blog live from Crufts and other high-profile events.
In 2017 and 2018 Vuelio placed it in the top ten UK pet blogs and the still growing readership encouraged MT to write a book. I'm not a Pandacow was the debut children's book released in 2017.
M.T. and Monty spent the major part of their time touring schools across the country bringing the tales to life as children got to meet the star of the books.
Author Links:
---
The above links are affiliate links. I receive a very small percentage from each item you purchase via these links, which is at no extra cost to you. If you are thinking about purchasing the book, please think about using one of the links. All money received goes back into the blog and helps to keep it running. Thank you.