Wearing My Mother's Heart by Sophia Thakur – Book Review
Wearing My Mother's Heart by Sophia Thakur – Book Review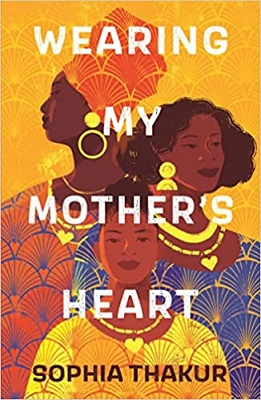 Wearing My Mother's Heart
Author – Sophia Thakur
Publisher – Walker Books
Release Date – 3rd November 2022
Pages – 112
ISBN 13 – 978-1406397697
Format – ebook, paperback, audio
Star Rating – 4
I received a free copy of this book.
This post contains affiliate links.

Synopsis
From acclaimed performance poet Sophia Thakur comes a powerful new collection of poems about what it means to be a woman, intergenerational relationships, finding your voice and learning to speak out.
To my children I will say
Let the river break between your lips…
In her lyrical and heartfelt second poetry collection, Sophia Thakur takes us on an emotionally charged journey through the past lives of women and considers what it means to be a woman in today's society. Exploring topics such as identity, race, politics, relationships, mental health and self-love, she weaves together the voices of a grandmother, mother and daughter, and examines how past generations have given us the freedom to speak out. Encompassing love, from first crush to break-up, the history that comes before us, and the brave moments that make us, this collection will resonate with all young women as they approach the joys and pain of adulthood and learn to navigate life.
Wearing my Mother's Heart is a collection of over 70 poems from spoken word poet Sophia Thakur. All are to do with being a woman and the relationships we have and life. Some are very short, just a couple of lines and some are over more than one page. They are also split into sections.
Now I think in my judgement of this book it is only fair to state that I'm not a massive reader of poetry. Whilst I adore some works from poets such as Edgar Allan Poe I rarely read modern-day poems so these were refreshing for me.
The poems whilst each had the underlined theme of being a woman, a lot of them were quite religious too and embraces faith in different areas of your life.
If you love poetry then Wearing My Mother's Heart will be a book to pick up. The poems are meaningful, touching, and poignant. They stay with you long after you have read them. This is also a book you can dip in and out of when you so desire or when you need that pick-me-up or a reminder of how strong you truly are. I certainly enjoyed this lovely collection of poems from Sophia Thakur.
---
Purchase Online:
Sophia Thakur
Sophia Thakur has been performing since the age of sixteen and has a wide reach across social media. She has presented two TED Talks and has worked closely with young people, sharing her poems and the creative process. She lives in Middlesex, England.
Author Links:
---
The above links are affiliate links. I receive a very small percentage from each item you purchase via these links, which is at no extra cost to you. If you are thinking about purchasing the book, please think about using one of the links. All money received goes back into the blog and helps to keep it running. Thank you.