Nikki Lilly's Come on Life – Book Review
Nikki Lilly's Come on Life – Book Review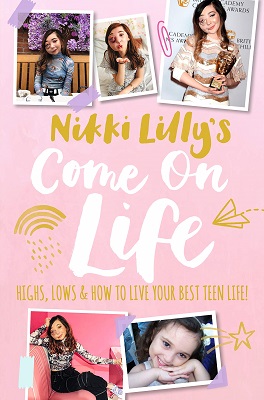 Nikki Lilly's Come on Life
Highs, Lows and How to Live Your Best Teen Life
Author – Nikki Lilly
Publisher – Walker Books
Pages – 176
Released – 1st October 2020
ISBN-13 – 978-1406392821
Format – ebook, hardcover
Review by – Stacey
Rating – 5 Stars
I received a free copy of this book.
This post contains affiliate links.


Be inspired and pick up practical tips on how to live your best life in this empowering debut by celebrated teen vlogger Nikki Lilly.
In this motivational guide, Nikki Lilly invites you behind the scenes in her ever-changing world. From baking to beauty, from social media and friendships to simply how to handle a bad day, Nikki Lilly shares her thoughtful insights into navigating the highs and lows of teen life. With engaging anecdotes, simple advice and life hacks plus easy-to-follow recipes and activities, this inspiring guide tells you everything you need to help you handle life the way you want to.

It's fair to say that I am quite a few years older than the target market for this book and I did wonder how I was going to review it after receiving a gifted copy from Walker Books. However, I can still remember my teenage years vividly, plus, I have two teenage children and another who has been through the teenage years so it is not like I am that out of the loop.
What I will also say is I have never heard of Nikki Lilly or her YouTube channel before so I knew nothing about this inspirational young lady. I do know what it is like though to be the parent of a child who has to have numerous operations, spend a lot of time in hospital, and has an illness that can not be cured. I commend Nikki for her outlook on life and her desire to bring joy to others and be a shining light.
This hardback book is split into nine sections, plus Nikki's final words at the end. From 'Be Yourself', to 'Dare to Keep Going', and 'Kill then with Kindness' the book has many a wise word and speaks to teenagers directly rather than an adult telling them how to control their tempers, moods, feelings. This has been written by a teenager for teenagers and she understands what they go through every day.
Within these nine sections you will find advice on how to approach parents – believe me, we are more approachable than you think, how to have a digital detox, make time for some TLC, and allowing yourself to just be you. As well as make-up advice, how to make a moisturizing face mask, DIY lip scrub, and may more as well as recipes and life hacks.
The book is a complete guide for teenagers and it is written in an engaging and fun way too. Nikki has also opened up about her condition, her family, and how she feels. There are plenty of photos within too.
The book is truly wonderful and inspiring. It would be worth investing in for any teenager. The book isn't about the teenage years being all rosy and lovely, it is a truthful book that shows that teenagers have bad days, angry days, emotional days alongside fun, joyful, and exciting days. It is a book about learning to love yourself and be yourself. As Nikki quite rightly states 'I'd rather be myself by myself than be with someone I can't be myself with.'
Book Reviewer – Stacey
---
Purchase online from:
---
About the Author

Since being diagnosed with a rare medical condition at the age of six, Nikki Lilly has grown up to share her story and her experiences with over one million YouTube subscribers, getting her message of positivity onto a global platform and establishing her as one of the best-loved teen voices around.
As well as her YouTube videos, Nikki has her own CBBC series, Nikki Lilly Meets, in which she chats to some of the country's top celebs and, in 2016, Nikki won Junior Bake Off. In 2019, Nikki won the BAFTA Special Award and an International Emmy Kids Award for her programme My Life: Born to Vlog.
In Nikki's first book, she offers all teen readers an inspiring and contemporary outlook on how to live their best life.




---
What did you think of Nikki Lilly's Come on Life? Share your thoughts in the comment section below!
---
The above links are affiliate links. I receive a very small percentage from each item you purchase via these link, which is at no extra cost to you. If you are thinking about purchasing the book, please think about using one of the links. All money received goes back into the blog and helps to keep it running. Thank you.
Like us on Facebook – Tweet us on Twitter – Pin us on Pinterest