All Kinds of Families by Sophy Henn – Book Review
All Kinds of Families by Sophy Henn – Book Review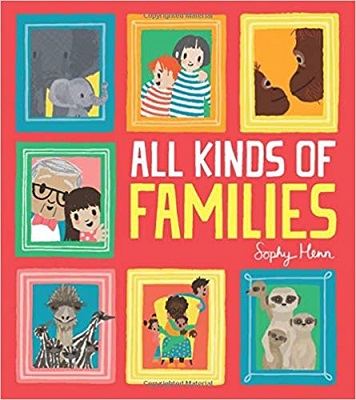 All Kinds of Families
Author – Sophy Henn
Publisher – Red Shed
Pages – 32
Released – 20th August 2020
ISBN-13 – 978-1405298230
Format – paperback
Review by – Stacey
Rating – 5 Stars
I received a free copy of this book.
This post contains affiliate links.


A wonderful celebration of the diversity of family life that is perfect for pre-schoolers, from award-winning author/illustrator Sophy Henn – the creator of Where Bear?, Pass It On and the Lifesize series.
Just like us, animal families are all different. For orang-utans, mummy looks after the babies, for emus it is all down to daddy. Clownfish live with a mummy and daddy, some albatross families live with two mummies and some cheetahs are adopted by two daddies. For some families it is the grandparents, or even a huge family group, who help bring up the youngsters. But what's the one thing that they have in common? Love, of course!
Reflecting the different ways that children live today, this warm and friendly introduction to the variety of family life is perfect for pre-schoolers to learn about the world around them, as well as seeing which family is similar to their own.

Throughout the human world, there is all type of different families and the same can be said about the animal world too. In this colourful, vibrant picture book, author Sophy Henn educates children about the different setup of families that some animals create.
From Orca's who live for so long their Grandparents help look after the calf whilst their mum is off looking for food to male Cheetahs who sometimes come together to adopt a lost Cub and bring it up together. The book is filled with fascinating information on animal families, some of the information I didn't know.
This book will help children understand that there are different types of families in the world both in the human world and in the wild. Hopefully showing children that animals live in different set-ups will make them more understanding towards families that may have just one parent, or same-sex parents, etc. This would be especially useful for children who may be in a different family setting or have friends who live in a different setup. It would also be perfect for schools to use as a base to do a class project on the differences.
The book was a complete joy to read. I loved the full-page illustrations, the large text, and the extra information about each of the animals at the back. For me, this is a must-read for all young children and I'm sure they will completely enjoy it. As the author states, families no matter how they are made up have one thing in common, love.
Book Reviewer – Stacey
---
Purchase online from:
---
About the Author

Sophy Henn lives and works in Sussex, England.
She writes and illustrates children's books in her studio, with a large cup of tea by her side, and can't quite believe her luck.
Where Bear?, her first book, was nominated for both the Kate Greenaway Medal and shortlisted for the Waterstones Children's Book Prize in 2015. Pom Pom Gets the Grumps won Junior Design Awards Best Book of the Year 2015, and Sophy won Best Emerging Talent (Children's Author). She was also the World Book Day Illustrator for 2015 and 2016.



---
What did you think of All Kinds of Families? Share your thoughts in the comment section below!
---
The above links are affiliate links. I receive a very small percentage from each item you purchase via these link, which is at no extra cost to you. If you are thinking about purchasing the book, please think about using one of the links. All money received goes back into the blog and helps to keep it running. Thank you.
Like us on Facebook – Tweet us on Twitter – Pin us on Pinterest