Clem and Crab by Fiona Lumbers – Book Review
Clem and Crab by Fiona Lumbers – Book Review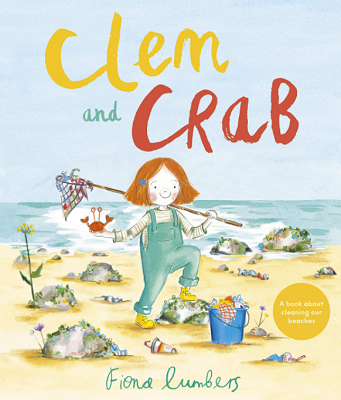 Clem and Crab
Author – Fiona Lumbers
Publisher – Anderson Press
Pages – 32
Released – 2nd April 2020
ISBN-13 – 978-1783449149
Format – paperback, hardcover
Review by – Stacey
Rating – 4.5 Stars
I received a free copy of this book.
This post contains affiliate links.


Clem is an explorer, a collector, a protector of the seas! Treasure hunting on her beloved beach, she stumbles across Crab, his claw stuck in a plastic bag. Crab will be much safer and happier in the city with Clem, but doesn't he belong on the beach?
A stunningly illustrated timely tale of cleaning up our beaches, with the message that every small action helps.

Clem was at the beach with her sister collecting items from the sand. She notices a crab but when she looks again it has gone. As the pair sift through all the stuff they have collected they find the crab with his pincer stuck in a plastic bag.
The girls free the crab and Clem wants to take him home but her sister tells her he needs to stay in his own environment, so they find somewhere to release it. However, it has ideas of its own and hides in Clem's trousers and she doesn't see him until she gets home.
At school, Clem shows her class a piece of artwork she has created from all the stuff she found on the beach and shows them the crab, and explains how he was trapped in the rubbish left on the beach. Her classmates are so moved that they decide to help clean up the local beach and Clem returns the crab to his rightful home.
Clem and Crab is a beautiful book about a young girl who not only wants to help the environment but she cares about the animals too and becomes friends with a crab. The plot is very moving and had me smiling throughout.
The storyline is certainly relevant to the times we live in and the efforts that are being made to clean up the beaches and to inform people about how much their waste is affecting the wildlife. It is better to educate people when they are younger as once older it is harder to make them change their ways and their minds.
As well as being a truly lovely story the illustrations throughout are quite simply divine. I love how they bring the book to life.
I would have liked there to have been more information within the book about what the rubbish on the beaches is doing to the environment and the wildlife, plus some links to places for further information so that children could find out more, but the book is a good start to begin a child's education and it is a whole lot of fun too.
Book Reviewer – Stacey
---
Purchase online from:
---
About the Author
Fiona has drawn on anything and everything from an early age and always insisted she would be an artist when she grew up. Fiona moved to London in 2000 to study for an MA in Painting at the Royal College of Art. A combination of her obsession with picture books and the arrival of her first son led her down the path of illustration and she hasn't looked back since. Nothing makes her happier than splashing watercolours and inks and conjuring up new characters – often influenced by the exploits of her two sons.

---
What did you think of Crab and Clem? Share your thoughts in the comment section below!
---
The above links are affiliate links. I receive a very small percentage from each item you purchase via these link, which is at no extra cost to you. If you are thinking about purchasing the book, please think about using one of the links. All money received goes back into the blog and helps to keep it running. Thank you.
Like us on Facebook – Tweet us on Twitter – Pin us on Pinterest