Handa's Noisy Night by Eileen Browne – Book Review
Handa's Noisy Night by Eileen Browne – Book Review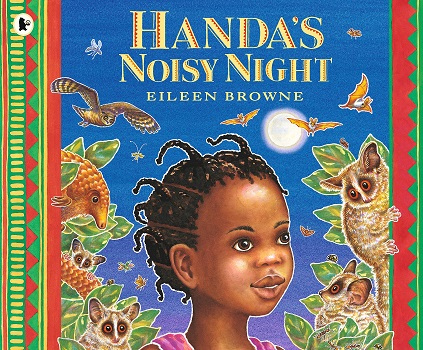 Handa's Noisy Night
Author – Eileen Browne
Publisher – Walker Books
Pages – 32
Released – 6th August 2020
ISBN-13 – 978-1406392388
Format – paperback, hardcover
Review by – Stacey
Rating – 5 Stars
I received a free copy of this book.
This post contains affiliate links.


The latest installment in Eileen's Browne's acclaimed Handa series is a warm, funny story about night-time fears with a cast of nocturnal animals and a Kenyan setting.
When Handa has a sleepover with her friend Akeyo, the girls are allowed to spend the night in a little hut near the house. They're excited to be on their own, but as they get ready for bed, Handa feels more and more nervous. She keeps hearing things – strange snorts, chitter chattering, a big thud. Akeyo says it's only her noisy family, but on the opposite page the reader sees the nocturnal animals who are really making the noise – and while some of them are familiar, others are very peculiar-looking indeed!
With rich, night-time illustrations, sound effects, and plenty of curious animals, Handa's Noisy Night demands to be read aloud and shared – whether in the classroom or tucked up in bed at home.

Handa was off for a sleepover at her friend Akeyo's house, who lived in the neighbouring village. Akeyo's parents told the girls they could sleep outside in the hut.
They took some sweetcorn and toys into the hut. Handa was very excited. As the girls started to play they heard a noise from outside that sounded like snorting. Akeyo stated it was just her father laughing.
As they carried on playing more noises occurred and Akeyo had an answer for each one. Her mum playing the shaker, her grandad wheeling his bike. Eventually after a noisy night the girls fell asleep.
When the girls woke in the morning they heard a knock at the door but when they open it no one was there.
When they saw Akeyo's parents they complained about all the noises they had been making but they were confused as they had been quiet as mice. If it wasn't them who or what could it have been?
Handa's Noisy Night is the third picture book in a series featuring a young girl called Handa who lives in Africa and is part of the Luo tribe in south-west Kenya. The writing is kept to a minimum and the font is large which will help new readers or those learning.
The plot is so lovely and a lot of fun. As Handa hears each noise you get to hear who Akeyo thinks it is in her family that made that noise, whilst on the opposite page you get to see which animal actually made the fun sounds. Akeyo's ideas for the noises were superb and you can see why she chose them.
The book features animals you don't often see in stories such as a Pangolin or a Bush-Baby, this could be the first time that young children have come across these animals. The illustrations perfectly capture the scenes and the animals making them easy to make out.
The story is quite beautiful and it is wonderful to see a young children's picture book set in Africa.
I adored everything about this book. I can see little ones enjoying everything within the pages and wanting to read this story over and over again as well as wanting to learn all about the animals featured.
Book Reviewer – Stacey
---
Purchase online from:
---
About the Author

Eileen Browne has written and illustrated many books for children, including Handa's Surprise and Handa's Hen. Before becoming an author, she worked as a schoolteacher and youth worker. Eileen Browne lives in Wiltshire, England.

---
What did you think of Handa's Noisy Night? Share your thoughts in the comment section below!
---
The above links are affiliate links. I receive a very small percentage from each item you purchase via these link, which is at no extra cost to you. If you are thinking about purchasing the book, please think about using one of the links. All money received goes back into the blog and helps to keep it running. Thank you.
Like us on Facebook – Tweet us on Twitter – Pin us on Pinterest