Kiki and Bobo's Sunny Day by Yasmin Ismail – Book Review
Kiki and Bobo's Sunny Day by Yasmin Ismail – Book Review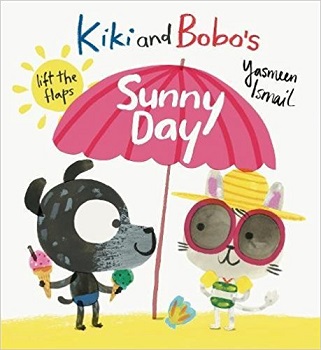 Kiki and Bobo's Sunny Day
Author – Yasmin Ismail
Publisher – Walker Books
Pages – 24
Release Date – 4th May 2017
ISBN-13 – 978-1406361513
Format – paperback, hardcover
Reviewer – Stacey
I received a free copy of this book
Post Contains Affiliate Links

Join bouncy Kiki and shy Bobo for a day at the seaside in this charming lift-the-flap story, perfect for very young children.
Kiki can't wait to get to the beach and swim in the sea. But why isn't Bobo as excited for their sunny day out?
The delightful duo are the creation of award-winning illustrator and animator Yasmeen Ismail, who has won The New York Times' Best Illustrated Book Award and the V&A Best Illustrated Book Award.

Kiki and Bobo's Sunny Day is a 'Lift the Flaps' hardback book.
On a bright sunny day, Kiki decides that she would like to go to the beach, and swim in the sea. However Bobo isn't very impressed with the suggestion.
On the way to the beach Bobo is quiet, then when they get there, every time Kiki said it was time to swim in the sea, Bobo had a different suggestion. Kiki got fed up of Bobo's other suggestions and stated they were going in the sea now, which made Bobo cry. It would seem that he was frightened of swimming in the sea, but with Kiki's help, he faced his fear.
This is a beautiful, colourful book that I am sure young children will enjoy reading, and opening the flaps. The illustrations are exquisite and the plot has been wonderfully thought out and executed.
The book shows what true friendship is all about, and the message of helping your friends is loud and clear for all children to understand.
Kiki and Bobo's Sunny Day is a lovely little book, that I am sure will be read over and over again.
Book reviewed by Stacey
Purchase Links