Hoglets' Christmas Magic by Lynette Creswell – Book Review
Hoglets' Christmas Magic by Lynette Creswell – Book Review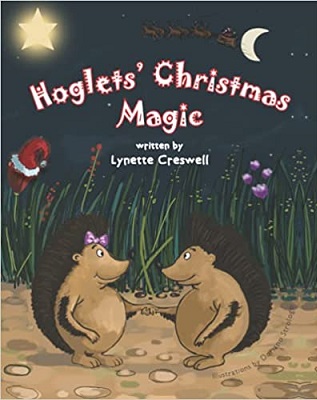 Hoglets' Christmas Magic
Author – Lynette Creswell
Publisher – White Rabbit Books
Pages – 32
Released – 25th August 2021
ISBN-13 – 978-1527277649
Format – ebook, paperback
Rating – 5 Stars
I received a free copy of this book.
This post contains affiliate links.


Synopsis
It's Christmas Eve with the hoglets.
Prickles and Primrose are excited. That is until… As they decorate the Christmas tree they discover the star for the top has shattered. Not to be defeated – the brave hoglets set out into the woods to seek a substitute star but stumble across Santa instead.
What adventure will they encounter? AND… what about the star?
Our first Christmas book of the year comes in the form of children's storybook, Hoglets' Christmas Magic written by Lynette Creswell. This 32-page story features two very cute little hoglets, Prickles and Primrose, as they leave their home looking for a star to go on top of their Christmas tree as their usual one has broken.
Whilst searching the siblings meet Santa and his reindeers who are also looking for something. One of the toys has fallen from his sleigh and they don't want a child not receiving a gift on Christmas morning and think they are on the naughty list. The hoglets offer their help.
Hoglets' Christmas Magic is a very cheerful book both in terms of plot and illustrations which really brings the story to life as they are bright, colourful, and a joy to look at and capture the words perfectly.
There is quite a lot of text, so this isn't a book for a new reader to read alone, this is for more confident readers or for parents/guardians to read to a child. It certainly would make a wonderful bedtime story, especially when the excitement of Christmas has started.
This is an enchanting adventure story that will capture the hearts of the reader. It also contains strong messages of friendship, caring, helpfulness, and family. It was a complete joy to read and I hope that there will be more stories to come featuring the hoglets.
Purchase Online From:
---
What did you think of 'Hoglets' Christmas Magic'? Share your thoughts in the comment section below!
---
The above links are affiliate links. I receive a very small percentage from each item you purchase via these links, which is at no extra cost to you. If you are thinking about purchasing the book, please think about using one of the links. All money received goes back into the blog and helps to keep it running. Thank you.
Like us on Facebook – Tweet us on Twitter – Pin us on Pinterest – Join us on Instagram