Things to do with Dad by Sam Zuppardi – Book Review
Things to do with Dad by Sam Zuppardi – Book Review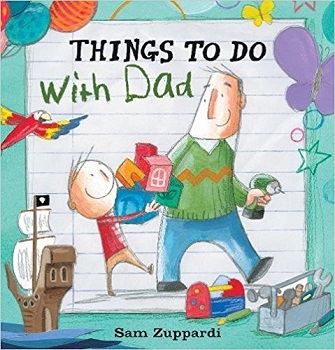 Things to do with Dad
Author – Sam Zuppardi
Publisher – Walker Books
Pages – 32
Release Date – 4th May 2017
ISBN-13 – 978-1406376944
Format – paperback, hardcover
Review – Stacey
I received a free copy of this book
Post Contains Affiliate Links

A morning of fun with Dad takes a turn for the boring when a long to-do list interferes. At first content to let Dad cross things off his list, the boy in the story soon realizes that the whole day will be spent on chores – unless he can come up with a solution.
In his singularly playful and expressive style, author-illustrator Sam Zuppardi crafts a colourful celebration of fathers and sons, and the fun that can be had with just a little imagination and a trusty green crayon.

What a lovely book, and perfect for fathers' day which is coming up next month.
The book has more beautifully illustrations than words, but as the saying goes 'A picture is worth a thousand words', this book certainly is. The illustrations are bold, bright and have a hand-drawn, crayon look to them.
A little boy dreams about spending the day with his dad, and all the fun things they will get up to. In reality, they have been a list left for them, telling them to, Wash the Dishes, Build the Bookcase, Hoover the Carpets, Make the Beds. You get the idea. This made both the little boy, and his dad look sad, but these things need to be done.
The little boy has an idea, he writes his own list of things to do, fun things. They will still be doing the same things as on the first list, but they will be done with added fun.
I love the concept of this book, especially as it is the little boys idea to come up with some ways to bring fun to the chores.
Things to do with Dad is cleverly crafted and such a wonderful book perfect for young children.
Book reviewed by Stacey
Purchase Links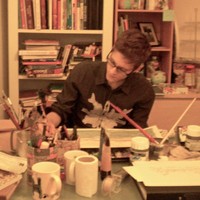 Sam Zuppardi says he used to draw cartoons at school when he was supposed to be doing work. Among other things, he has worked in a book warehouse, a bookstore, and a toy store, and is currently working with children. The Nowhere Box was his first picture book.
He currently lives in York, England.
Author Links