Spandex and the City by Jenny T. Colgan – Book Review
Spandex and the City by Jenny T. Colgan – Book Review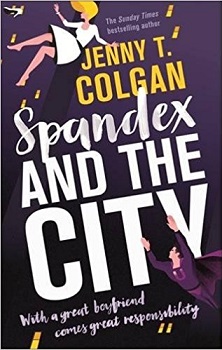 Spandex and the City
Author – Jenny T. Colgan
Publisher – Orbit
Pages – 368
Release Date – 18th May 2017
ISBN-13 – 978-0356505442
Format – ebook, paperback, audio
Reviewer – Stacey
I received a free copy of this book
Post Contains Affiliate Links

LOCAL GIRL SWEPT OFF HER FEET
Mild-mannered publicist Holly Phillips is unlucky in love. She's embarrassed beyond belief when the handsome stranger she meets in a bar turns out to be 'Ultimate Man' – a superpowered hero whose rescue attempt finds her hoisted over his shoulder and flashing her knickers in the newspaper the next day.
But when Holly's fifteen minutes of fame make her a target for something villainous, she only has one place to turn – and finds the man behind the mask holds a lot more charm than his crime-fighting alter-ego.
Can Holly find love, or is superdating just as complicated as the regular kind?

Unlucky in love Holly was forever being pushed by her best friend Gertie to find herself a man. On a night out together, villain Frederick Cecil raided the bar they were in, taking every ones jewels, phones, money, etc. Not wanting her best friends new engagement ring to be taken, Holly stood up to the villain. Unfortunately, not everything went as she had hoped.
Dragged out of the bar by Frederick, Holly came face to face with Ultimate Man, the protector of Centerton, Holly's home town. After a brief fight, Frederick disappeared, and Holly found herself thrown over Ultimate Man's shoulder, leaving her knickers on show for the world to see.
Not exactly being a fan of Ultimate Man, she was disappointed when once again, she came face to face with him at a corporate party, in the city's art gallery. Frederick Cecil had taken the opportunity to steal from some of the wealthy city dwellers. Unfortunately for Ultimate Man, after Frederick once again got away, Holly saw him mid changing, and for the first time someone knew his real identity.
With their paths continuously crossing, Holly started to fall for Ultimate Man, though he told her he couldn't date anyone, as his life was too complicated. This attraction hadn't gone unnoticed by Frederick, who decided to use her as a pawn in the battle between good and evil.
Spandex and the City, is a complete bonkers book, but it is oh so funny, and laugh out loud from beginning to end. Sometimes you just want to read a book that will give you a lift and make you feel happy, and this book certainly does that.
It is a take on all the superhero books, but rather than the focus being on the hero or villain, it is on Holly, the woman caught, unwantedly, between the two arch-nemesis.
Ultimate Man, is basically a very purple Batman, with his purple suit, purple bike, and purple phone. Though where Batman is a normal man wearing a suit, Ultimate Man is the product of a lab explosion which gave him his abilities. He is a little too clean cut for my liking, with his 'need to save everyone', and always having to be right attitude. He also didn't have that emotional pull, that Frederick did.
Holly is an ordinary woman, working hard for little money, and never managing to get herself a date. She is the girl next door type of woman, who happens to be in the wrong place, at the wrong time – more than once. She is pig-headed, and likes to use sarcasm whenever possible, which is often lost on Ultimate Man. She is also far more brave than she likes to think she is.
Frederick Cecil, is the villain you love to hate. He has a beautiful house, on a beautiful sunny island. One that screams rest and relaxation. His motives for stealing are, to him, a worthy cause, one that he has spent his whole life thinking about, and one that he feels he is doing for the greater good. From starting out despising him, I felt myself conflicted as to whether he really was the bad guy.
I read the book at a time when I needed a real pick-me-up, in a week where everything, any anything had gone wrong. I found myself longing to pick up the book, even if it was only for a few minutes, just to escape reality. This book took me to a place which made me smile, made me laugh, and ultimately made me feel happy.
I became hooked from the very first chapter, by Ms. Colgan's easy, relaxing, writing style, and her delightful, playful plot, unlike any of her other work that I have read.
If you are after a book that can give you that much needed break from life, to take you to a world just like your own, but one where good and evil come in the forms of superhero and super-villain, just like Batman and the Joker, then Spandex and the City is the book for you.
Book reviewed by Stacey
Purchase Links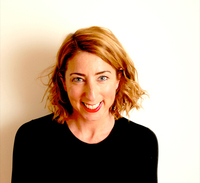 Jenny Colgan was born in Scotland and has lived in London, the Netherlands, the U.S. and France. She eventually settled on the wettest of all of these places, and currently lives just North of Edinburgh with her husband Andrew, her dog Nevil Shute, and her three children: Wallace, who is 11 and likes pretending to be 19 and not knowing what this embarrassing 'family' thing is that keeps following him about; Michael-Francis, who is 9 and likes making new friends on aeroplanes, and Delphine who is 7 and is mostly raccoon as far as we can tell so far.
Author Links
www.jennycolgan.com
@jennycolgan
Facebook
Goodreads