Going Over The Falls by Amy Waeschle – Book Review
Going Over The Falls by Amy Waeschle – Book Review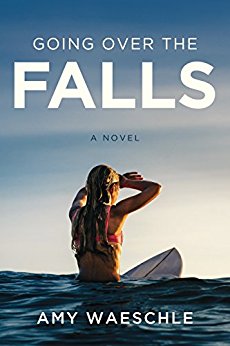 Going Over The Falls
Author – Amy Waeschle
Publisher – Aviva Publishing
Pages – 346
Release Date – 11th May 2017
ISBN-13 – 978-1944335724
Format – ebook, paperback
Reviewer – Marcia
I received a free copy of this book
Post Contains Affiliate Links

Dr. Lorna Jacob's world turns upside down when her estranged mother, Alex Morneau arrives in her E.R. needing care for a mysterious illness.
After a painful childhood trying to keep up with the surf-obsessed and neglectful Alex, Lorna is unsure of how far she's willing to go to help her. But before Lorna can deliver the prognosis—an aggressive form of cancer—Alex disappears. Unable to turn her back on her mother, Lorna leaves behind her job and the man she loves to search for the woman who so often abandoned her for the waves.
The adventure, however, proves disastrous at every turn. Finally, Lorna finds Alex operating a fledging surf camp in a tiny town in Mexico. As Alex's condition deteriorates, Lorna easily fills the role of caregiver, though the emotional connection she craves remains frustratingly out of reach. Alex presses her for one more surf adventure, and Lorna agrees, hoping for one last chance to make things right. But a tragic accident forces Lorna to make an impossible choice, one that would force her to give up everything she's worked so hard to create. Her one chance at rescue will come from the man she left behind, but only if he can find her.
Part surf adventure, part family saga, Going Over the Falls brings together themes of sacrifice, trust, and the meaning of love.

Going Over the Falls, is about at torn relationship between a mother, Alex, and her daughter, Lorna.
Lorna, the main character, is an insecure woman. She finds it hard to trust men, or maintain long-term relationships. She works as a resident doctor in the ER. Her mother, Alex, is a pro-surfer.
The two have been out of contact with one another for many years, mainly due to Alex always putting her surfing career before her daughter. Because of this, Lorna felt neglected and decided the only way to deal with the turmoil was to cut her mother out of her life, permanently.
When Alex walks into the ER looking terrible and needing help, Lorna is torn as to whether she is willing to help her mother, but as the test comes back positive for cancer, she decides that she must put her feelings to one side. Unfortunately, Alex has upped and left, leaving Lorna on a quest to find her.
Lorna feels that she has no option but to try and find her mother, but as the two reunite under difficult circumstances, Alex is still trying to push her daughter away, leaving Lorna to take this moment to look at her own personal issues.
I thought it was a wonderful idea to look at life through a surfing environment. The plot was refreshing, and held me intrigued to the pages. It is an emotional roller coaster from beginning to end, and at times will have your heart-breaking for these two women.
The settings were amazing, and so remarkably vivid, at times I felt like I was standing in the shallows, or riding the waves. Lorna and Alex were also two very believable characters, each with their own positives and flaws, though I did find it hard, at first, to warm to either of them.
The ending, although predictable, was perfect. I'm not sure Ms. Waeschle could of taken it anywhere else.
Book reviewed by Marcia
Purchase Links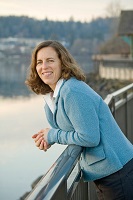 AMY WAESCHLE is an author, professional editor, and wilderness medicine instructor for the Wilderness Medicine Institute.
She is the author of Going Over the Falls and Chasing Waves, A Surfer's Tale of Obsessive Wandering. Her stories have appeared in publications such as The Seattle Times, Sierra, and International Living.
Amy is a former National Outdoor Leadership School Field Instructor, graduated with a B.S. in Geology from the University of Washington, and has a Masters in Teaching from Seattle University.
Her writing career began in 2002 when she wrote advertising copy for Patagonia, and she has worked as an acquisition editor, fine-tuning manuscripts for publication since 2003.
Amy likes to surf, run mountain trails, travel, and spend time with her family. She and her husband live in Poulsbo, Washington with their two daughters.
Author Links