Tropical Terry by Jarvis – Book Review
Tropical Terry by Jarvis – Book Review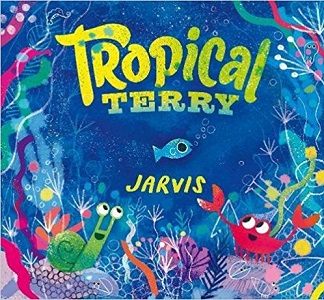 Tropical Terry
Author – Jarvis
Publisher – Walker Books
Pages – 32
Released – 7th June 2018
ISBN-13 – 978-1406376425
Format – paperback, hardcover
Reviewer – Stacey
Rating – 4 Stars
I received a free copy of this book
Post contains affiliate links.
Terry wants to stand out. But, in Coral Reef City, it's sometimes better to blend in…
Coral Reef City is home to the most dazzling shoals of tropical fish in ALL the ocean. And then there is Terry. Terry looks grey. Terry feels dull. And although he is the best at playing "Hide A Fish", he can't help but wonder: Just what would it feel like to be part of that dashing, flashing crew? So, with the help of his friends, he fashions a flashy costume and is ready to impress… "Hello-o-o everybody! Just call me TROPICAL Terry!" But will life as a tropical fish be everything he dreamed of?
With his trademark humour and vibrant art, the award-winning Jarvis tells a heart-warming comedy of self-esteem; a story about learning to love your own scales and take pride in what makes you different.

Terry is a plain blue fish that lives in Coral City where all the colourful fish live. He has two good friends, Cilla the Crab and Steve the Sea Snail. Every day they play games together such as 'Shark Speed' and 'Dodge the Dolphin'. They also play 'hide-a-fish' and Terry always wins. He asks the other fish to play but they don't like Terry very much as he is dull and boring and not colourful like them.
One day Terry has an idea. He gathers lots of stuff from the sea that is colourful and sticks them on himself using seaweed. Now he is very colourful and announces that he is called 'Tropical Terry', not just Terry.
Unfortunately, Tropical Terry soon learns that it isn't always a good thing to be so bright when Eddie the Eel turns up looking for his lunch and he has his eye on him. Will Tropical Terry get away or will he end up as fish food?
Tropical Terry is a fun, young children's book. It is brightly coloured and the illustrations are just divine and really work on the blue background. This helps to make the scenes have that under-the-sea look about them.
The book shows children how important friendships are and also that it's best to be you and not try to become someone different just to fit in. It is a fun, charming story with a great message. It would make a wonderful class read too.
Reviewed by Stacey
---
Purchase online from:
---
About the Author

Once upon a time, a guy decided to become a picture book maker. He tried really hard and even learnt how to do colouring in. And after meeting a whole load of really amazing characters he got to make some books.
Jarvis is an illustrator and animator who has worked as both a record jacket designer and an animation director. He lives in Manchester, England.




---