Xalien Goes to the Beach by Michelle Path – Book Review
Xalien Goes to the Beach by Michelle Path – Book Review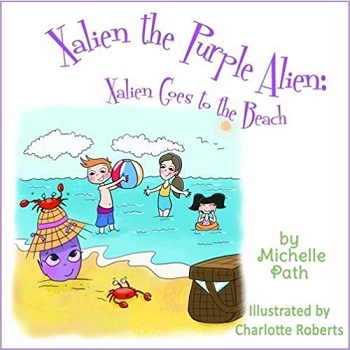 Xalien Goes to the Beach


Xalien the Purple Alien Book Five
Author – Michelle Path
Publisher – Rowanvale Books
Pages – 34
Release Date – 31st October 2016
ISBN-13 – 978-1911240099
Format – paperback
Reviewer – Stacey
I received a free copy of this book
Post Contains Affiliate Links

Xalien can't get enough of Earth and is back for another adventure! This time she is off to enjoy a day at the beach.
Jessica, Adam and Sarah introduce Xalien to lots of new things including swimming, seaweed and sandwiches. As usual, Xalien gets up to a lot of mischief! Join her as she explores the beach, even managing to teach the children how to speak to aliens along the way.
This exciting fifth instalment in the award-winning Xalien the Purple Alien series is sure to delight and amuse both children and adults alike.
Review
This is the fifth book in the Xalien the Purple Alien Series, and this time she is off to the beach with her Earth friends, siblings Jessica, Adam and Sarah.
Whilst getting ready to hit the beach, the three children discover Xalien in their garage, she had come back to Earth to play with them, so they took her with them to enjoy the seaside.
Xalien being from another planet did things very differently on the beaches back on her planet, such as, the aliens bury themselves under the sand to keep cool, the crabs weren't very impressed with Xalien for disturbing them when she buried herself.
She could, however, communicate with the dolphins and brought a pod of them to the children for them to swim with. All aliens from her planet are all taught how to communicate with animals.
But alas, all good things must come to an end, and once their day at the beach was over, Xalien returned to her planet, but I'm certain she will be back.
Xalien the Purple Alien is a fantastic collection of books that have been following the life of the little alien and her friends. Having friends on Earth is fun, but they sure do things differently from her planet.
Whilst the children teach Xalien how to behave, and the customs that are the norm for humans, Xalien teaches the children a few things about her planet, and herself too.
The books are full of humour, filled with fantastic illustrations, and have immensely warming, and inviting characters. They would be a perfect addition to any child's library.
Book reviewed by Stacey
Purchase Links

Have a read of our reviews of the other books in the Xalien series 'Xalien the Purple Alien' – 'Xalien Goes to School' and 'Xalien Goes to the Zoo'.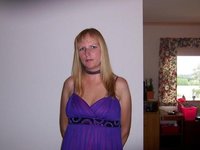 Michelle Path is an Australian children's book writer. She grew up with a love of reading and an appreciation of books from a young age..
In primary school her class were asked to write and illustrate a book, and there her dream of becoming a writer was born. A lot of inspiration for her stories come from things she is interested in or inspired by, especially a love of nature and animals.
Michelle's aim is to write books that are fun to read but that also have an educational slant, a moral or a message. She also wants to incorporate her passion for conservation of the planet and respect for the environment and it's creatures into her writing.
Author Links