Baby Goes to Market by Atinuke – Book Review
Baby Goes to Market by Atinuke – Book Review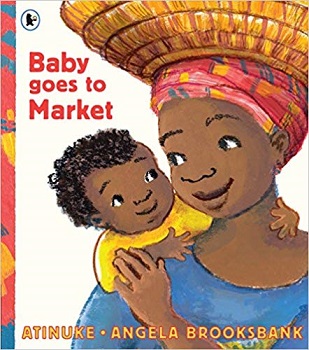 Baby Goes to Market
Author – Atinuke
Illustrator – Angela Brooksbank
Publisher – Walker Books
Pages – 40
Released – 5th July 2018
ISBN-13 – 978-1406365160
Format – paperback, boardbook
Reviewer – Stacey
Rating – 5 Stars
I received a free copy of this book
Post contains affiliate links.
When Baby and Mama go to market, baby is so adorable that the banana seller gives him six bananas. Baby eats one and puts five in the basket, but Mama doesn't notice.
As Mama and Baby wend their way through the market stalls, cheeky Baby collects five juicy oranges, four sugary chin-chin biscuits, three roasted sweetcorn, two pieces of coconut … until Mama notices that her basket is getting very heavy. Poor Baby, she thinks – he must be very hungry by now!
Rhythmic language, visual humour and a bounty of delectable food make this a tale that is sure to whet little appetites for story time.

Mum and baby are visiting the local market. Baby is being carried on his mums back. As they travel around the market the stall holders take a liking to the little child. Some of them give the little child some food from fresh bananas to biscuits and coconut. Each time the baby takes one item and eats it and then places the leftovers in the basket on his mums head.
Mum doesn't notice that the baby is eating, nor that her basket is getting heavier and heavier. She soon feels that it is time to leave as her baby must be really hungry as he hasn't eaten, but little does she know!
Baby Goes to Market, is a fun short children's book that has been exquisitely illustrated by artist Angela Brooksbank. The pictures really do emphasise what is happening and make the story come to life. The little baby is so adorable and pulls some great faces.
I love how each section starts with the same sentence. This helps new readers to learn their words, it also helps to keep the flow of the book. I can see Baby Goes to Market being enjoyed by all little children. It would be a perfect read at home or school.
Reviewed by Stacey
---
Purchase online from:
---
About the Author

Atinuke is a Nigerian-born author who started her career doing traditional oral storytelling. Her books include a Boston Globe–Horn Book Honor Winner, a Notable Book for a Global Society, a Cybils Award Winner, and an Africana Award Winner. She lives in Wales.



---