George the Brave by Eva Papoušková – Book Review
George the Brave by Eva Papoušková – Book Review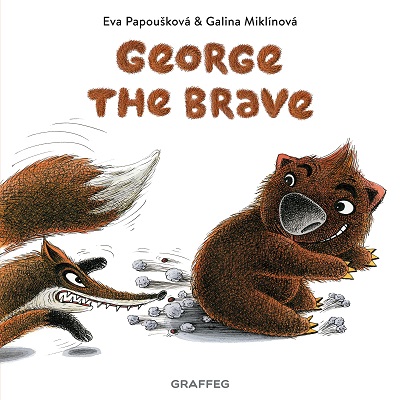 George the Brave
Author – Eva Papoušková
Illustrator – Galina Miklínová
Publisher – Graffeg Limited
Release Date – 12th May 2022
Pages – 36
ISBN 13 – 978-1802580884
Format – ebook, paperback
Star Rating – 4
I received a free copy of this book.
This post contains affiliate links.

Synopsis
George the Wombat journeys outside of his burrow and into a dark forest, where he meets a wily and cunning fox. The fox likes the look of George for dinner and George is so scared he can't move! Can George get the courage to show the fox his brave side and get away from danger using a tactic only a wombat would know?
Originally published in Czech, this book has been expertly translated by Alexandra Büchler
George the Wombat wants to play in the woods with his friends and whilst his parents let him he is also warned to be careful of those that would like to eat wombats.
Whilst playing hide-and-seek, George is counting when along comes Wilma the Fox looking for a tasty meal. What should George do, should he run away or should he be brave and use his secret weapon to stop her?
Being in the UK we don't tend to know a lot about Wombats over here given that they are native to Australia, so it is nice to see a children's book about these creatures so that youngsters can learn more about them.
George is a very sweet young Wombat and he has some great dance moves. The book is quite dark in colour but it works given that George is dark brown and Wilma the Fox is too.
The story is both fun and serious. George the Brave is a lovely quick story that will have children learning about Wombats as well as entertaining them.
---
Purchase Online:
Eva Papoušková
Eva Papoušková is an author of screenplays, books and playscripts. She has written more than 120 hours for prime time TV, written one feature, and co-wrote on documentaries since. She has worked with the Oscar winning director Malcolm Clarke. Currently she is focused on teaching screenwriting in English and writes highly-praised books for children in Czech.
Author Links:
---
The above links are affiliate links. I receive a very small percentage from each item you purchase via these links, which is at no extra cost to you. If you are thinking about purchasing the book, please think about using one of the links. All money received goes back into the blog and helps to keep it running. Thank you.