Her Last Request by Mari Hannah – Book Review
Her Last Request by Mari Hannah – Book Review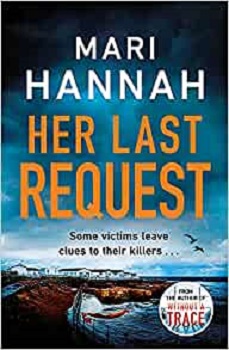 Her Last Request
DCI Kate Daniels Book Eight
Author – Mari Hannah
Publisher – Orion
Release Date – 20th January 2022
Pages – 416
ISBN 13 – 978-1409192459
Format – ebook, paperback, hardcover, audio
Star Rating – 5
I received a free copy of this book.
This post contains affiliate links.

Synopsis
Some victims leave clues to their killers…
A Hidden Clue
A victim leaves a note for the SIO who will investigate her death. This not what DCI Kate Daniels expects to find concealed at a crime scene.
A Desperate Plea
The note contains a last request: 'Find Aaron'. But is Kate searching for a potential second victim, or a killer?
The Countdown is on…
Following the clues, Kate becomes the obsession of her adversary who will stop at nothing to get what he wants. Will she find Aaron before he does?
Her Last Request is one of the best thrillers that I have read recently. I Loved the way the story was written with a clue from the victim found at the first murder scene which sets the detectives on their way to finding out who committed this horrific murder and why, but they don't have much to go on.
From the first chapter, I was already hooked and eager to find out more.
The characters are described so well that they came across as very real. I especially appreciated the characters Kate and Hank as they are our protagonists who are solving the case, but I also enjoyed getting to know Lisa Carmichael and David Stone.
There are some dark and gruesome parts to this tale that adds to the storyline and the mystery throughout. There was also good use of descriptive language and lots of detail adding weight to the plot.
Her Last Request was gripping and a definite page-turner that kept my attention from beginning to end and I raced through it.
Well done author Mari Hannah this book is definitely a winner for me and I will recommend it to family and friends.
---
Purchase Online:
Mari Hannah

Multi-award winning Mari Hannah is the author of the Stone & Oliver crime series, the Ryan & O'Neil series and the DCI Kate Daniels series.
In July 2010, she won a Northern Writers' Award for Settled Blood. In 2013, she won the Polari First Book Prize for her debut, The Murder Wall. She was awarded the CWA Dagger in the Library 2017 as the author of the most enjoyed collection of work in libraries. In 2019, she was awarded DIVA Wordsmith of the Year. In that same year, Mari was Programming Chair of the Theakston Old Peculier Crime Festival.
She lives in Northumberland with her partner, an former murder detective.
Author Links:
---
The above links are affiliate links. I receive a very small percentage from each item you purchase via these links, which is at no extra cost to you. If you are thinking about purchasing the book, please think about using one of the links. All money received goes back into the blog and helps to keep it running. Thank you.