The Crocodile Who Came for Dinner by Steve Smallman – Book Review
The Crocodile Who Came for Dinner by Steve Smallman – Book Review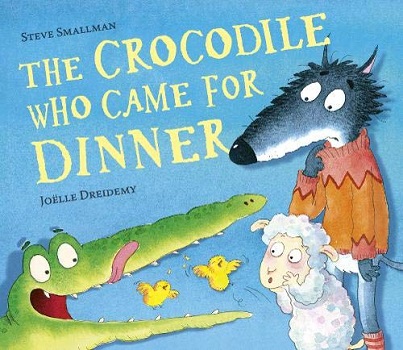 The Crocodile Who Came for Dinner
Author – Steve Smallman
Illustrator – Joëlle Dreidemy
Publisher – Little Tiger Press
Pages – 32
Released – 1st April 2021
ISBN-13 – 978-1788815956
Format – Hardcover
Rating – 4 Stars
I received a free copy of this book.
This post contains affiliate links.


Synopsis
Hotpot and Wolf have found an egg. A CROCODILE egg! Is the crocodile a fearsome, ferocious beast? No! He's snuggly, cuddly and looking for some friends.
A book about challenging stereotypes and finding friends.
The Crocodile Who Came for Dinner is a hardcover, children's picture book about fighting stereotypes. Friends Hotpot (a lamb) and Wolf (a wolf), find an egg. Wolf wants to make an omelette with it but Hotpot tells him he can't and after checking with all the locals to see if it is theirs, they take the egg home and decide to look after it.
Not long after arriving home the egg cracks and out pops a baby crocodile which they name Omelette. The locals in the woods though are not so sure about them having a crocodile. They believe that he is okay whilst he is small but when he grows he will gobble them all up. As he gets bigger the locals get more and more worried but will Omelette become the ferocious beast they believe he will?
A book that is about fighting stereotypes is a fabulous asset for any child. The Crocodile Who Came for Dinner teaches them this in a fun and humorous way accompanied by colourful, amazing artwork that will keep young minds engaged and interested.
There is quite a lot of text so this would either need to be read by a confident reader or read to/with a none or new reader, though there are no big complicated words for them to get stuck on and the illustrations perfectly represent the story so they could work out what was happening via the pictures.
The book is part of a series of books featuring Hotpot and Wolf though it works perfectly on its own. The book is enjoyable and will hopefully educate the reader about stereotyping subtly and entertainingly.
Purchase Online From:
---
What did you think of 'The Crocodile Who Came for Dinner'? Share your thoughts in the comment section below!
---
The above links are affiliate links. I receive a very small percentage from each item you purchase via these link, which is at no extra cost to you. If you are thinking about purchasing the book, please think about using one of the links. All money received goes back into the blog and helps to keep it running. Thank you.
Like us on Facebook – Tweet us on Twitter – Pin us on Pinterest – Join us on Instagram