I Am Angry by Michael Rosen – Book Review
I Am Angry by Michael Rosen – Book Review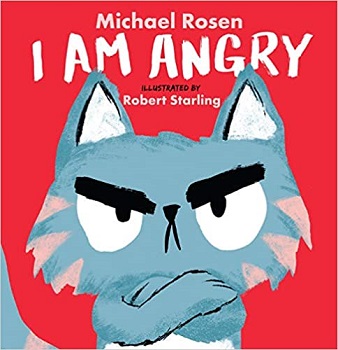 I Am Angry
Author – Michael Rosen
Illustrator – Robert Starling
Publisher – Walker Books
Pages – 32
Released – 1st July 2021
ISBN-13 – 978-1406396652
Format – hardcover
Rating – 5 Stars
I received a free copy of this book.
This post contains affiliate links.


Synopsis
This kitten may look cute and cuddly, but better beware: they're angry. Really angry. Angry, angry, angry! And this isn't any old "angry". This is a jump-up-and-down, roll-on-the-ground kind of angry. This is a spider-scaring, tiger-scaring kind of angry. This is a burst-balloon-ing, SQUASH-THE-MOON-ING kind of angry…
As surreal as things may get, this is also the kind of angry that parents of toddlers will recognize – a bad mood which comes out of nowhere, escalates wildly, then disappears as suddenly as it arrived. Based on the popular poem from A Great Big Cuddle, I Am Angry combines Michael Rosen's brilliant rhymes and anarchic imagination, Robert Starling's perfect knack for character and a reassuring message: anger may feel overpowering, but it doesn't last for ever.
If you have a young child or have dealt with a young child who at some point (most likely more then once), and for no apparent reason, has started having a tantrum then this book will be familiar to you.
The book begins with a message from the author about how the book came to life. It started out as a poem he wrote for one of his children when they were little and having a tantrum.
We meet cat who is having an off day. They are grumpy, angry, or upset and has found that the way to release their feelings is by having a tantrum. Cat is rather funny with his tantrum. He scares spiders, scares tigers, silences the birds, and squashes the moon. When he has finished he is tired and heads to bed.
I can honestly say that I giggled more than once and could just see a young child doing these things, though on a smaller scale, such as yelling at their teddies or food. There are just a few words on each page and the book rhymes, which in my opinion is always a bonus in picture books.
I loved the illustrations with the comedy images and the faces that cat pulls. They are full-page, colourful, and bring Michael Rosen's words to life. I can see this book being just as, or more, entertaining for adults. It was a small slice of amusement and put a smile on my face and I can see it doing the same to both other adults and children too.
Purchase Online From:
---
What did you think of 'I am Angry'? Share your thoughts in the comment section below!
---
The above links are affiliate links. I receive a very small percentage from each item you purchase via these link, which is at no extra cost to you. If you are thinking about purchasing the book, please think about using one of the links. All money received goes back into the blog and helps to keep it running. Thank you.
Like us on Facebook – Tweet us on Twitter – Pin us on Pinterest – Join us on Instagram