Yawn by Patricia Hegarty – Book Review
Yawn by Patricia Hegarty – Book Review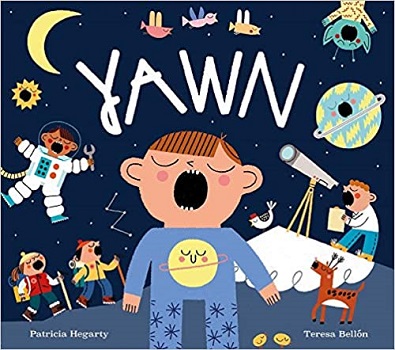 Yawn
Author – Patricia Hegarty
Illustrator – Teresa Bellón
Publisher – Caterpillar Books
Pages – 32
Released – 8th July 2021
ISBN-13 – 978-1838911607
Format – paperback, hardcover
Rating – 4 Stars
I received a free copy of this book.
This post contains affiliate links.


Synopsis
It started with a yawn
That came out of the blue…
Find out what happens when one little yawn starts to spread and grow. From animals to astronauts, everyone's yawning! Can you resist?
I think we have all heard that yawning is contagious, I've certainly found myself yawning after seeing someone else do it, or making others copy mine. This book is all about a yawn being passed on from a little boy all across the world and even into space.
Part of the story asks are you yawning too? I can confirm I certainly did more than once throughout.
The book has some amazing illustrations showing everyone, even the cat and dog yawning. They are bright, colourful, full-page, and get the message across loud and clear.
I love that it had little cut-out sections on some of the pages, this gave the book an added dimension to it and will heighten the enjoyment for children as they get to peek through the windows, etc to see who or what is there.
The text is easy to read with no hard or difficult words. It mostly rhymes and features people and animals that children know and understand from a young age. It takes them to a few places around the world too.
This is a very sweet book. It is also the perfect bedtime story as hopefully the tale, although good fun, will make the child/children yawn, become tired, and be ready to go to sleep.
Purchase Online From:
---
What did you think of 'Yawn'? Share your thoughts in the comment section.
---
The above links are affiliate links. I receive a very small percentage from each item you purchase via these link, which is at no extra cost to you. If you are thinking about purchasing the book, please think about using one of the links. All money received goes back into the blog and helps to keep it running. Thank you.
Like us on Facebook – Tweet us on Twitter – Pin us on Pinterest – Join us on Instagram