Supermouse and the Volcano of Doom by M. N. Tahl – Book Review
Supermouse and the Volcano of Doom by M. N. Tahl – Book Review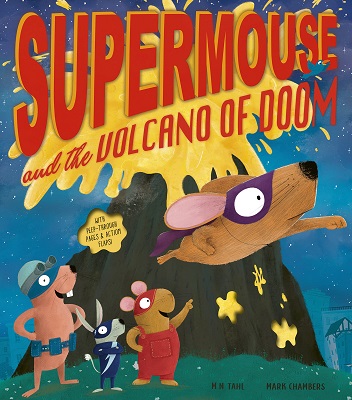 Supermouse and the Volcano of Doom
Author – M. N. Tahl
Illustrator – Mark Chambers
Publisher – Little Tiger
Release Date – 3rd August 2023
Pages – 28
ISBN 13 –
Format – Paperback, hardcover
Star Rating – 5
I received a free copy of this book.
This post contains affiliate links.

Synopsis
Supermouse is BACK! But with crime on the rise in Mouseopolis and trouble brewing at Mount Fondue, could this job be too much for one mouse to handle? It's time to call for some back-up.
This action-packed adventure is oozing with fun-filled lift-the-flaps, peep-through pages, and fiery fondue. Can you take the heat?
Supermouse and the Volcano of Doom is a fun, adventurous children's picture book with flaps to lift and holes to peek through.
In Mouseopolis Mount Fondue looks like it is about to explode. Supermouse knows he can't stop it on his own so he interviews potential new super rodents but none fit the bill, oh no, he's going to have to save Mouseopolis on his own – or is he?
Supermouse and the Volcano of Doom is filled to the brim with colourful, bright, cartoon-like illustrations. It is such a fabulous book I can see children loving every minute of it. It gave me vibes of the animated movie Zootopia but rather than having a police officer saving the day, we have a mouse, a supermouse.
With its lift-the-flaps, peep-through pages, and amusing moments, this is a book that I can see being read over and over again. It will certainly make the reader giggle and keep them entertained the whole way through.
---
Purchase Online:
M. N. Tahl
M. N. Tahl has been a cheese-lover for as long as she can remember. One of Tahl's favourite holidays was spent in Italy, waiting for the local 'mozzarella man' to bring his cheese in a bucket. The delicacy could only be eaten while standing in the sea, due to extreme juiciness. Tahl also has a particular fondness for stilton and stinky goat's cheese. She lives in the perfectly situated village of Cheddar, England.
Author Links:
---
The above links are affiliate links. I receive a very small percentage from each item you purchase via these links, which is at no extra cost to you. If you are thinking about purchasing the book, please think about using one of the links. All money received goes back into the blog and helps to keep it running. Thank you.