The Dead Chip Syndicate by Andrew W. Pearson – Book Review
The Dead Chip Syndicate by Andrew W. Pearson – Book Review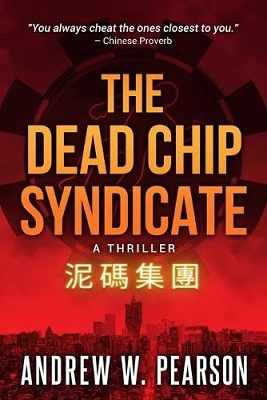 The Dead Chip Syndicate
Author – Andrew W. Pearson
Publisher – Brother Mockingbird
Release Date – 18th July 2023
Pages – 294
ISBN 13 – 979-8986330570
Format – ebook, paperback
Star Rating – 3.5
I received a free copy of this book.
This post contains affiliate links.

Synopsis
Offered the chance to run his twin brother's A.I. company, Anthony Wilson ditches his failing screenwriting career to start anew in Macau. The job turns highly lucrative when Anthony's new client, Cash Cheang, a pompadour-topped and Johnny Cash-loving casino operator, hands him a bag full of cold hard Yuan to implement a facial recognition system in his casino.
Hearing about Anthony's past life as a screenwriter, Cash offers him another job – ghostwriting a biography about the casino mogul's life rising from the mean streets of Macau to becoming one of the city's most notorious and successful businessmen. Anthony accepts the job while also agreeing to help Cash sell his latest scheme, a cryptocoin aimed at raising funds for a floating casino in Macau.
As Anthony learns more about Cash's life, he realizes the biography is filled with dangerous secrets about the Chinese elite, secrets these powerful people would rather see buried for good. "You always cheat the ones closest to you," warns an old Chinese proverb. Words that ring true as Anthony enters a playground more surreal and depraved than decadent Hollywood. More deadly too as Anthony soon discovers he's the dupe in a huge Chinese money-laundering scheme that might be orchestrated by his treacherous twin.
The Dead Chip Syndicate mixes A.I. Technology, Crypto Currency, Gambling, and Asia in this edgy thriller. Anthony Wilson was a screenwriter but has decided to swap his career and travel across the world to work for his twin brother Cyrus's company working on A.I. Technology for casinos.
Whilst working he is approached by a crypto owner who wants Anthony to write his biography and help sell his crypto coins. However, this means that he will have knowledge of plenty of secrets that are worth killing for and a price has been put on his head.
The Dead Chip Syndicate has to be one of the hardest books I've read in a long time. There is a lot of jargon within the pages and for someone who has no interest in crypto, A.I., or gambling I suppose this wasn't the best book to read, but then I love a good thriller and a challenge.
The thriller side was intriguing. I loved the opening, I mean someone landing from their long air journey to be warned there was a bounty on their head was a good start. I also love how detailed Chinese culture is shown. You can tell the author knows his stuff when it comes to crypto, etc because this is very detailed, overly detailed for the average reader and at times reads like a non-fiction book. This unfortunately took some of the excitement away from the decent underneath thriller plot which had great potential to be amazing.
Overall, the book is bang up-to-date and if you have an interest in A.I. and Crypto you will love this book. If not, still give it a go but be prepared to have to take it slowly and let the information sink in.
---
Purchase Online:
Andrew W. Pearson
Andrew W. Pearson was born in Pakistan, grew in Singapore, and was educated at boarding schools in both England and America. With a degree in psychology from UCLA, Pearson has had a varied career in IT, marketing, mobile technology, social media, esports, and entertainment.
While working in Hollywood, Pearson optioned and adapted the novels Open Water, The Sunday Macaroni Club, The Jukebox Queen of Malta, and Scavenger Reef, attaching such talented directors as Kevin Hooks, Fraser Heston, Mark Lester, Diane Ladd, and Jorge Ramirez-Suarez to his projects. Pearson's script for The Sunday Macaroni Club was a Quarter-Finalist in the 2004 Zoetrope Screenwriting Competition and The Flirting Game was selected as a Finalist in the Fourth Screenplay Search Competition.
An avid traveler, Pearson is a sought-after speaker, lecturing on such disparate topics as AI + ML, casino and mobile marketing, data analytics, social media and interactivity. If he's not pounding the pavements of Hollywood, he's probably meandering through the labyrinthine streets of Hong Kong's Lang Kwai Fong, or tearing up useless betting slips at Happy Valley (perhaps the most perfectly named racecourse in the world (for some)), or dining at a hawker center in Singapore, or wandering through tall safari grasses in South Africa, or grabbing some lechon at a bustling outdoor food market in Manila, or doubling down at the gaming tables in Macau. Basically, Pearson's trying to find the next great story that the world doesn't yet know that it desperately wants to see…
Author Links:
---
The above links are affiliate links. I receive a very small percentage from each item you purchase via these links, which is at no extra cost to you. If you are thinking about purchasing the book, please think about using one of the links. All money received goes back into the blog and helps to keep it running. Thank you.