Gavin & The Bodysnatchers by Michael A. Duffy – Book Review
Gavin & The Bodysnatchers by Michael A. Duffy – Book Review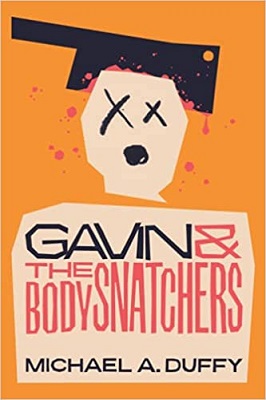 Gavin & The Bodysnatchers
Author – Michael A. Duffy
Release Date – 22nd September 2021
Pages – 398
ISBN 13 – 979-8475011546
Format – ebook, paperback
Star Rating – 5
I received a free copy of this book.
This post contains affiliate links.

Synopsis
Time to cheer yourself up with this dark comedic page turner!
When Gavin's retro joke shop fails and his wife, Marie, leaves him, he finds himself at a crossroads in his life. Seeking a fresh start in employment, his existence is then blighted by tyrannical boss, Bryce Brimstone – a man who seems to bestow misery on everyone he meets. Eventually wishing the dreadful guy dead, it seems that Gavin is not the only one who shares that daydream.
But how might a monster be nobbled? With rat poison, a meat cleaver maybe, or even by the imaginative use of cling film? Or how about by using an app on your phone, one that makes sorting assassinations as easy as ordering a pizza?
Then again, who would want to enter a traumatising world of murder investigations, kidnap, cannibalism, organised crime and ice cream van drama? Surely best to stay well clear?
'Gavin & The Body Snatchers' – a tale of be careful what you wish for. A better life is all very well. But not if it KILLS you!
It would be difficult to think of a more fitting name for Drabbleton, Lancashire. The town that was once a bustling dynamo of the English textile industry is now but a shade of its former self: down-at-heels and crumbling, with few opportunities. That seems about to change when Bryce Brimstone, the great-great-great grandson of Drabbleton's founder and benefactor, James Brimstone, converts the old Victorian-era Brimstone Mill into a call center. But venal, cruel Bryce is the poster child for the boss from hell. His call center may have brought jobs to Drabbleton, but those jobs come with an exceptionally toxic work environment.
So, when Gavin Hargreaves's son shows him a phone app for Disposals Inc., it seems like great fun to order a "hit" on the venal Mr. Brimstone. What Gavin doesn't know is that the app is for real. And, as it turns out, he's not the only one who envisions a deceased Bryce Brimstone.
Call center manager Krystyna Kowalski, Gavin's neighbor Bob Horsefield, and chippy shop owner Dinesh Patel each have their reasons for wanting Brimstone to permanently disappear. The three of them, along with a hit team from Disposals Inc., converge on the unfortunate but despised mogul at the same time. Brimstone is done for, of course.
But that's not the end of the story. Gavin freaks when Disposals Inc. bills him £30,000 for the hit, a princely sum he is in no way able to pay. In retaliation, the hit team ships him Brimstone's by-now odoriferous body. What follows is a series of adventures and misadventures as Gavin and his friends first try to dispose of a dead body, only to find the hit team want it back.
Gavin and the Bodysnatchers bills itself as a comedy thriller, a label that fits it quite well. The book can be a bit gory at times. Yet it can also be poignant and many times it is side-splitting funny. I literally laughed out loud (to employ an overused phrase) frequently while reading it.
A friend once told me that when you read Dickens, a mouse running across the floor will be significant several chapters later. You could say the same of Gavin and the Bodysnatchers. Numerous random and irrelevant events deftly circle back to reconnect with the storyline later. Consequently, most readers won't find it easy to predict everything that happens as they progress through the book.
It takes skill to turn crime into comedy. Gavin and the Bodysnatchers does that very well, much in the manner Carl Hiaasen does with his books. If you like a little dark humor and are willing to occasionally suspend disbelief, you should guffaw your way through this book.
---
Purchase Online:
Michael A. Duffy
Born in the North West of England, Michael A. Duffy's formative years were shaped by the cobbled streets and colourful characters of a declining Lancashire Mill town. When he became old enough he escaped off to Merseyside to watch his favourite footy team, Liverpool FC. Then he became a student in Manchester in the late Seventies, becoming heavily involved in the indie music scene, playing in bands and writing for both national and local music magazines.
Once his head had been turned by the bright lights of both Liverpool & Manchester, he reckons that he could never return to his dreary though charming Cotton Town roots. So he then moved to and fro between these two far more exciting Northern cities, embarking on a glamorous working life. Well not particularly glamorous, but he did have a few jobs anyway. Varied stuff like English teaching, commercial management and then marketing, each work-life chapter claiming to result in varying degrees of enjoyment and success.
So, as he observed life in both Lancashire and Merseyside, he eventually assembled the mosaic fragments of characters he shamelessly stole for the basis of his two novels, 'Sixth Beatle' and 'Gavin & The Bodysnatchers'.
He now lives on Merseyside with his wife, Sue, occasionally visited by their grown up kids – none of whom wish to listen to Michael's later life singer-songwriting efforts, nor indeed hear him wax lyrical about his next novel idea, you know, the one that's sure to be the Next Big Thing!
Author Links:
---
The above links are affiliate links. I receive a very small percentage from each item you purchase via these links, which is at no extra cost to you. If you are thinking about purchasing the book, please think about using one of the links. All money received goes back into the blog and helps to keep it running. Thank you.