Maria's Island by Victoria Hislop – Book Review
Maria's Island by Victoria Hislop – Book Review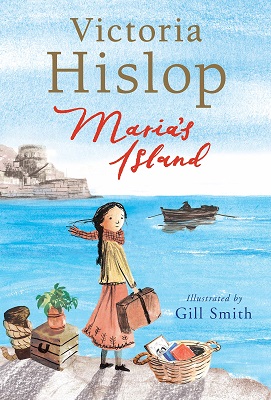 Maria's Island
Author – Victoria Hislop
Illustrator – Gill Smith
Publisher – Walker Books
Pages – 128
Released – 3rd June 2021
ISBN-13 – 978-1406399073
Format – ebook, hardcover
Rating – 5 Stars
I received a free copy of this book.
This post contains affiliate links.


Synopsis
The absorbing story of the Cretan village of Plaka and the tiny, deserted island of Spinalonga – Greece's former leper colony – is told to us by Maria Petrakis, one of the children in the original version of The Island.
She tells us of the ancient and misunderstood disease of leprosy, exploring the themes of stigma, shame and the treatment of those who are different, which are as relevant for children as adults.
Gill Smith's rich, full-colour illustrations will transport the reader to the timeless and beautiful Greek landscape and Mediterranean seascape.
Maria's Island is a beautiful, engaging, and poignant book set on the Greek Island of Crete and the now uninhabited neighbouring island, Spinalonga.
The story features a young girl called Rita who is visiting her γιαγιά (Grandmother) called Maria who lives in Crete. Her Grandmother tells her about the place she grew up in and offers to take Rita there one afternoon. When they arrive in the small village of Plaka Maria tells Rita all about her life living there and on the island of Spinalonga.
Maria shares with Rita the story of how a bacteria illness called Leprosy had such a devastating effect on the community. How it tore families apart and how because it was contagious the Greek government decided that anyone who had the illness, whether they were an adult or a child had to move to Spinalonga to live out their years.
This is a tale that will stay with me for a long time. It was extremely touching and opened my eyes to an illness that has been around for generations and that only through modern medicine can people be treated and cured of it. I'd also never heard of Spinalonga, if you get the chance Google it and see the buildings that still stand today where people had to live and die.
The storyline is heart-warming and heart-breaking at the same time, but it is so worth the read. You could feel all the raw emotions that Maria and those around her felt.
There are vivid elegant illustrations throughout that capture the heart of the story and the life of the people in Crete and Spinalonga. I can't emphasise enough how absorbing and powerful this book is. I haven't read Victoria Hislop's adult book The Island, but I will be ordering a copy today as this book was inspired by The Island and retold for children.
Purchase Online From:
---
What did you think of 'Maria's Island'? Share your thoughts in the comment section below!
---
The above links are affiliate links. I receive a very small percentage from each item you purchase via these link, which is at no extra cost to you. If you are thinking about purchasing the book, please think about using one of the links. All money received goes back into the blog and helps to keep it running. Thank you.
Like us on Facebook – Tweet us on Twitter – Pin us on Pinterest – Join us on Instagram