Secrets, Shame, and a Shoebox by L. B. Griffin – Book Review
Secrets, Shame, and a Shoebox by L. B. Griffin – Book Review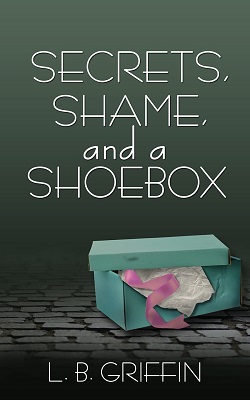 Secrets, Shame, and a Shoebox
Author – L. B. Griffin
Publisher – The Wild Rose Press
Pages – 253 pages
Released – 21st July 2021
ISBN-13 – 978-1509235957
Format – ebook, paperback
Rating – 4 Stars
I received a free copy of this book.
This post contains affiliate links.


Synopsis
When Harriet Laws loses her grandmother and her job, her happy life in London seems over. Alone, grief-stricken and penniless, she thinks wildly of ending it all. Fate steps in as Tom Fletcher saves her, gives her hope, and guides her to new employment. He takes her to dinner, and she finds him attractive. He's older, but she doesn't mind. Does he?
Tom, a quiet, hardworking man, is unsure of Harriet's feelings, but he's also very busy building his business interests. So it's no wonder a suave, sophisticated fellow walks off with Harriet right under Tom's nose.
What follows, no one could have predicted, as Harriet not only loses contact with all her friends but must again fight for her very life…will she ever see Tom again?
Poor Harriet Laws. She's an orphan raised by her grandmother, Molly. The two live frugally with their combined incomes and have an extremely close relationship. But Harriet's world shatters when Molly unexpectedly collapses and dies, just as she's about to reveal something about the father Harriet never knew. If that weren't enough, Harriet's evil boss sacks her for daring to take off work for Molly's funeral.
Distraught, Harriet considers doing the unthinkable, but fate intervenes in the person of Tom Fletcher. With a renewed outlook on life, Harriet begins to find herself. She lands first one job then a second and never seems to miss an opportunity to make a friend or help someone in need.
Tom is a baker with a promising future and remains firmly in the picture. He and Harriet continue to see each other often. Their friendship remains platonic, but both secretly hope it develops into something more. That is, until the smarmy toff CJ Rutherford appears and manoeuvres Tom aside to claim Harriett as his own. Marriage to CJ is inevitable but promises to be a disaster. Which it turns out to be.
Secrets, Shame, and a Shoebox kept me turning pages from start to finish. I enjoyed reading it tremendously. Harriet and Tom are engaging characters and it was easy to care about them and their lives.
The plot of the story is somewhat predictable, although not completely so, and the ending has just a touch of too-good-to-be-true to it. I was also ever-so-slightly frustrated that no big secrets were revealed despite a few hints that the secrets were there. Yet at the end of the day, none of these flaws detracted seriously from my ability to enjoy the book.
Purchase Online From:
---
Share your thoughts on 'Secrets, Shame, and a Shoebox' in the comment section below!
---
The above links are affiliate links. I receive a very small percentage from each item you purchase via these link, which is at no extra cost to you. If you are thinking about purchasing the book, please think about using one of the links. All money received goes back into the blog and helps to keep it running. Thank you.
Like us on Facebook – Tweet us on Twitter – Pin us on Pinterest – Join us on Instagram