Revenge of the Elders of Zion by Dan Sofer – Book Review
Revenge of the Elders of Zion by Dan Sofer – Book Review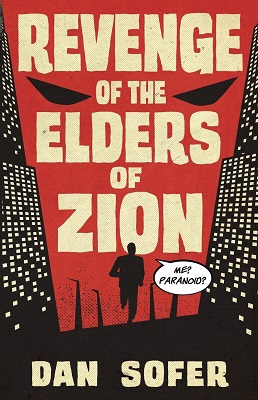 Revenge of the Elders of Zion
Author – Dan Sofer
Pages – 311
Released – 13th May 2020
ISBN-13 – 978-1950139002
Format – ebook, paperback, audio
Review by – Ed
Rating – 3.5 Stars
I received a free copy of this book.
This post contains affiliate links.


Haters destroyed his life. Will the Elders of Zion deliver vengeance?
The world you know is a lie. Global events are controlled by the Elders of Zion. And David Zelig wants to join them. There's only one problem. The Elders of Zion doesn't exist. It never did. So David rolls his own secret society. But he's not the only covert vigilante group in town.
Dark forces are closing in on every side. The race for survival launches David and his friends from the skyscrapers of Manhattan through the secrets of Imperial Russia to an embarrassing relic from the dawn of Christianity.
Along the way, David will learn about hatred. He will learn about love. And he will discover a very unusual egg. The web of conspiracy he uncovers will boggle the mind.
As time runs out in this zany, high-octane, and deliciously dark comedy thriller, David will face a shocking possibility. Have his good intentions backfired horribly, triggering the worst anti-Semitic attack on American soil ever?

Dan Stofer's new novel Revenge of the Elders of Zion starts with an FBI interview with Hyman Schneider about young David Zelig from the large film producer, Zelig Pictures. Most of the novel takes place in or near New York.
Hyman tries to dissuade David from his idiotic idea of starting a secret Jewish society, but David starts it with his two closest friends, Jordan Brody and Mitchell Joffe and they name the secret society 'The Trio'.
Jordan shows them how to get on the dark web and they look up the Elders of Zion and make a connection, unfortunately. At a Cyber Summit, David meets Amy Anderson, a.k.a. FBI agent Amy Smith, and a.k.a. the secret society Templar's agent Mary Rudolf.
Mitchell finds out where the Elders are meeting and the Trio's lives become dangerous, and chaotic involving the FBI, CIA, NSA, and two rival deadly secret societies. The Trio's personalities, blunders, and the bizarre complications of their lives add a level of dark humor to the novel. There are many perilous scenes, captures, and even a plane crash. I don't want to give away too much.
The novel is expertly edited. It expressed danger and uncertainty; feelings of inadequacy, mystery, and romance. I thoroughly enjoyed it, but the plot was a little bizarre and too much dark humor for my tastes.
Book Reviewer – Ed
---
Purchase online from:
---
About the Author

In 2001, Dan Sofer moved from Johannesburg to Jerusalem, from the cradle of humankind to the cradle of monotheism.
Along the way, he studied archaeology in the City of David, drove a tank in the Jordan Valley, delved into the Talmud in the Judean hills, represented an entire continent in the International Bible Contest, and swam with Tiger sharks (unintentionally!) in Mozambique.
Dan lives in Israel with a supermodel, a princess, and a mermaid.





---
What did you think of Revenge of the Elders of Zion? Share your thoughts in the comment section below!
---
The above links are affiliate links. I receive a very small percentage from each item you purchase via these link, which is at no extra cost to you. If you are thinking about purchasing the book, please think about using one of the links. All money received goes back into the blog and helps to keep it running. Thank you.
Like us on Facebook – Tweet us on Twitter – Pin us on Pinterest