The Lonely Fajita by Abigail Mann – Book Review
The Lonely Fajita by Abigail Mann – Book Review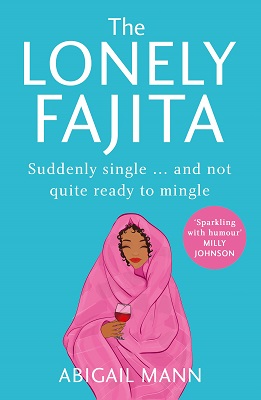 The Lonely Fajita
Author – Abigail Mann
Publisher – One More Chapter
Pages – 352
Released – 14th May 2020
ISBN-13 – 978-0008408183
Format – ebook
Review by – Stacey
Rating – 4 Stars
I received a free copy of this book.
This post contains affiliate links.


Breaking up is hard to do… Or the best thing that could happen to you!
It's Elissa's birthday, but her boyfriend hasn't really noticed – and she's accidentally scheduled herself a cervical smear instead of celebration drinks. Great.
Then there's her borderline-psychotic boss, the fact she's not making but losing money at work, and her sinking feeling she's about to be dumped.
But Elissa will soon find out that being single doesn't have to be lonely… And with a little help from her friends, even a girl with minus £1,000 in her account can have a lot of fun.

Elissa works for a new London start-up company that is making a dating app, though the pay is rubbish. She spends more time watching videos than actually working. She lives or should I say lived with her boyfriend Tom, rent-free, in a house share. That was until Tom came back from a stag do in Vegas and declared he was moving to Asia and that Elissa wasn't part of his long-term plans.
Desperate for somewhere to live, as she can't afford the rent on the house share, she stumbles across an agency leaflet about older people looking for a live-in companion to keep them company and help them around the house all for freeboard.
With no other options, Elissa joins the agency and is matched up with feisty Annie, in her 80s, who the company has struggled to get a companion for due to her outgoing and no holds barred attitude and pickiness.
Elissa might have thought that she had no option to become a live-in companion but it may just be the making of her and friendship do comes in all shapes and sizes.
The Lonely Fajita is a humorous look at life through the eyes of Elissa. She may have a job she doesn't particularly like, working for a man that doesn't seem to understand equal rights or how not to be condescending or judgemental but she does have a few fun friends there. She may also have been dating a man that didn't seem to be into the relationship as much as she was, but with no-one else and no-where else to go she stayed until she had to leave.
Elissa comes across as someone who wants the easy path in life, not challenging people or situations she believes are wrong and putting up with others bad behaviour instead of standing up for herself. Annie is the complete opposite. She has no trouble telling others exactly what she thinks of them and won't do anything she doesn't want to do. She is well-educated and won't be made a fool of.
The two characters work well together and between them, they keep the book full of moments to make you laugh or cause you to smile. There are plenty of secondary characters too who provide some funny moments or make you want to reach into the book and give them a shake – Craig!!
The first 30% of the book felt much slower than the next 70%, this was mainly down to getting to know Elissa and chapters understanding her life, living situation, job, and friends. Once she moves in with Annie the pace picks up and so does the fun.
It was a joy to read, relatable, and is certainly a book I will remember. Elissa is just your average woman trying to find her path in life, just like so many.
Book Reviewer – Stacey
---
Purchase online from:
---
About the Author

Abigail Mann is a comedy writer living in London and surviving on a diet of three-shot coffee, bourbons, and vegetarian sausage rolls. She was born and brought up in Norfolk, which she says is to blame for the sardonic humour that runs through her novels.
Abigail was the runner-up in 2019's Comedy Women in Print award for The Lonely Fajita: her first novel.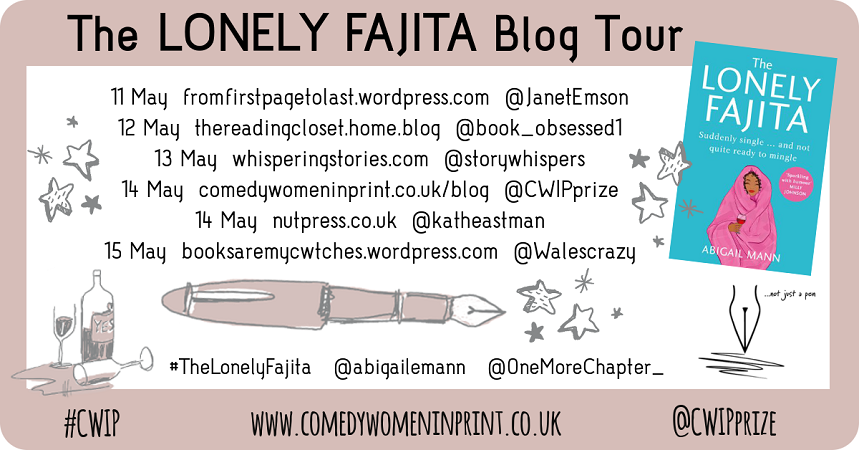 ---
What did you think of The Lonely Fajita? Share your thoughts in the comment section below!
---
The above links are affiliate links. I receive a very small percentage from each item you purchase via these link, which is at no extra cost to you. If you are thinking about purchasing the book, please think about using one of the links. All money received goes back into the blog and helps to keep it running. Thank you.
Like us on Facebook – Tweet us on Twitter – Pin us on Pinterest