The Writing Life of: Rachel Dove
Rachel Dove
This week I am thrilled to be interviewing author Rachel Dove. Rachel Dove will be sharing with us details of her writing life, telling us all about her latest book 'The Second Chance Hotel', which will be released on 29th May 2020 and answering a few fun questions too. This post contains affiliate links.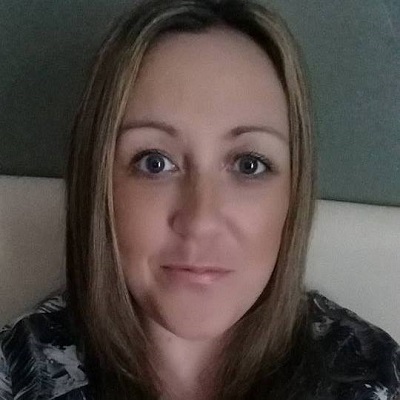 Rachel Dove lives in Yorkshire with her husband, two boys and various animals. She writes short stories and books about love, family and the moments that hold us all together. She has an MA in Creative Writing and is a qualified Post 16 tutor specialising in autism and SpLDs.
A true romantic at heart, if she is not writing or reading, she can be found walking the dog, stitching or looking for the next trip away. She is a member of the RNA and sponsors a yearly bursary for a working class writer to have a place on the New Writers Scheme.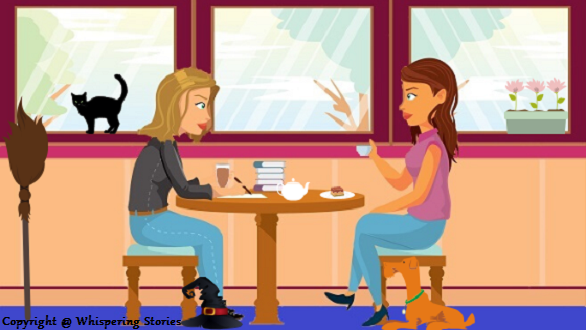 1) As a child did you have a dream job in mind?
I pretty much wanted to be an author since I was young enough to hold a book, I just didn't think I would ever get to achieve that. I always wanted to teach, education and learning are big passions of mine.
2) Who was your favourite childhood author (s)?
Roald Dahl was and is one of my favourites, Boy being the best. I loved how deliciously evil he could be in his books, and it was allowed, and funny, and left you wanting to read more. His love of language inspired me. The Match Girl is another, I remember feeling transfixed by that story. Hans Christian Anderson, and you can't beat a good Ladybird book on your mum's knee.
3) Was there a particular point in your life that you realised you wanted to be a writer?
I always scribbled, and my love of books is obsessive, to be honest. Always has been, so I often think it was just always part of me. Now that I have been published a while, I still feel like that. If I don't read for a while, I get a bit grumpy.
4) What is your average writing day like? Do you have any special routines, word count, etc?
I wish! I have animals and humans to care for like most homes, so I put those first. School runs, dog walks, showers – I have worked in them all!
Writing is not all about what's on the page, it's often something being planned in your head while you are washing up or driving to school. I always have notepads and pens, I keep idea files, and I have deadlines to plan and stick to.
On a good day, I can write up to 12k a day, on a bad day, I might squeeze out 250 and decide it's not flowing, so I will do something else, read or research. Every writer is different, but I work 7 days a week. I work from home on the sofa, couch, patio table, or desk. I normally listen to music and have the dog and cat nearby, so I am pretty happy in the peace. In winter, I have been known to work in the car at the side of rugby pitches and football fields, while my kids play. It's whatever works.
5) How many books have you written? Any unpublished work?
I have written eleven now! I have to add them up myself sometimes! I have a finished picture book and a MG book, which are finished but not subbed anywhere, and 5 or 6 WIPS/ideas for when I get the chance to write them! I like to write short stories too from time to time, and these have been published in the UK and overseas. One was about a naked gardener, which they loved in Australia!
6) Are you a plotter or a pantser?
I am awkwardly, a plantser! I do plot and have character profiles, but I do let the characters lead me too. They are more fun that way. I start with a word document or a bank notepad page, and I get going.
Concerning your latest book: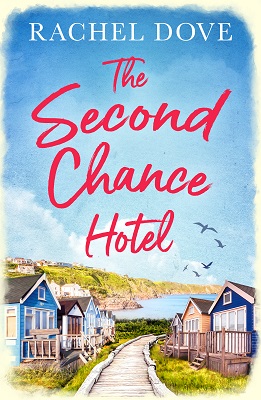 The Second Chance Hotel
Author – Rachel Dove
Publisher – HQ Digital
Pages – 384
Release Date – 29th May 2020
ISBN 13 – 978-0008375829
Format – ebook, paperback

April Statham had it all – until her husband left her for a blonde ten years her junior. Now she's thirty-five, single, and starting again. So she does what anyone in her position would do: she impulsively invests her life savings in the chalet park she used to visit as a child, on the beautiful Cornish Coast.
The Shady Pines Chalet Park is… ramshackle. But it has one big advantage – it is as far as physically possible from April's ex, his new fiancée, and her old life. With gorgeous handyman Cillian O'Leary, April is looking forward to the challenge.
As visitors arrive, April realises that Shady Pines isn't just a second chance for her, it gives Cillian another shot at happiness too.
But when he moves into the chalet next door, April's painful past starts to catch up with her, and she struggles to reconcile her feelings for Cillian.
Is April's new beginning destined to end in failure – or will she find new friends, a new life and new love at her second chance hotel?
7) How did you go about researching the content for your book?
My lead character actually has a medical issue that I myself have, so my whole life was research! In terms of the setting, I did a fair bit of research, but it is somewhere that I visited as a child, so I had an excellent head start!
8) How long did it take to go from ideas stage to writing the last word?
It varies to be honest. Next month I started writing a book that isn't out till 2021, but the book was contracted in December 2019. I have books with 3 publishers, so I tend to work on ideas when I have them, and my agent Lina helps a lot. She is an excellent sounding board for my wackier book plans! Once the synopsis is there, and I have a little chat with my characters, I am good to go and I can get a first draft down pretty quickly.
9) How did you come up with the title of your book?
This was very much in collaboration with my agent and editor Belinda at HQ Digital. This book is a little different from my others, and I am a writer obsessed with titles, so it had to be right. Usually, the title is one of the first things I come up with. Summer Hates Christmas, my 2019 Manatee book, was born because I hate winter, and get very grumpy. I was longing for summer one day, and the title just popped into my head, complete with a very grumpy woman called Summer. Then, I had to tell her story, if only to shut her up!
10) Can you give us an insight into your characters?
This book is about second chances of course, but it's more than that. All of the characters have their own issues, but the place setting, and each other are the key. Cillian was a dream to write, I love writing the male characters anyway but he really felt meaty to write. I have a feeling he has a big loud family back home that want to say hello too!
He's an alpha and a beta all rolled into one, and I loved the facets of his story. I like to write characters that are not all good or all bad, we all have a little of each in us, and it's what happens when our life changes that is often the real story.
11) What process did you go through to get your book published?
A long one! This book is the work of months of writing and rewriting. Once the book idea is agreed with my publisher, it's up to me to write it to the deadline, and work on the edits. It's very much reliant on both writer and editor and agent being on the same page for the book, and as passionate about it.
I like to know what I am writing next too, so it's very hands on in terms of concept and covers etc. This book is set in Cornwall for the first time, so I was very aware that the setting had to be as enticing as lovely Yorkshire for my readers, who were used to the settings already. I plan to write more in different settings, and hopefully get a few stamps on my passport too!
12) What's next for you writing wise?
I have another Mills & Boon Medical Romance to write, and I am very excited to start that. It will be my second medical book for them, so I am eager to make it as good as I can!
Plus I have a secret side project that I want to finish this year. It's very different from my other books, so watch this space on that one!
I helped my son to launch his first picture book Autistic Alfie too, and he is writing another. 2021 will be a busy one hopefully!
Fun Questions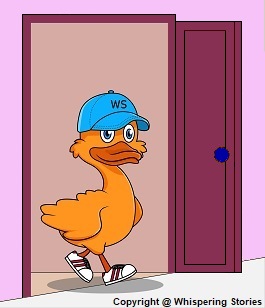 1) If you could have any super power for the day which would you choose?
I would make it so that people would see each other. I am guilty of this too, but when I walk my dog or drive in the car, I see people glued to screens and not looking at each other. Technology is amazing, but it can't beat human interaction. I would make the world a bit more friendlier, and get people talking more.
Oh yes, I love animals! We have a rescued American Cocker Spaniel, Oliver, a rescued cat called Tilly who hated all men when she came to us, and we recently got two baby leopard tortoises called Alfie and Speedy. I would have a zoo if I could, I plan to have another dog when the children are older and I would love to rescue some ex battery hens. My husband just rolls his eyes at me, but I just love them all.
3) If you decided to write an autobiography of your life, what would you call it?
Oooo good question! I always find those titles a little bit cringy, so I would probably just go for something daft like 'A Fart in a Full Lift'. Something to make people double check their eyes as they look on the bookshop shelves!
4) Your book has been made into a feature film and you've been offered a cameo role, which part would you choose, or what would you be doing?
Well I always said that I would love Gerard Butler to star in one of my books, so I would be his personal pillow fluffer, and would happily sit in a café and stare at him for the on scene bits while I drink coffee and eat cake. Perfect day.
5) Where is your favourite holiday destination?
Anywhere my kids are happy, I have sand under my toes, and a book in my hand. I have lots of travel plans on my bucket list!
6) A baseball cap wearing, talking duck casually wanders into your room, what is the first thing he says to you?
'If I say I'm off to Quiffs for Quackers again, just bloody pluck me and have done!'
---
I would like to say a big thank you to Rachel Dove for sharing with us details of her writing life and for a wonderful interview.
Rachel Dove – Author links




---
Share your thoughts on our interview with Rachel Dove in the comment section below!
---
The above links are affiliate links. I receive a very small percentage from each item you purchase via these link, which is at no extra cost to you. If you are thinking about purchasing the book, please think about using one of the links. All money received goes back into the blog and helps to keep it running. Thank you.
Like us on Facebook – Tweet us on Twitter – Pin us on Pinterest