Uncle Shawn and Bill Book Three by A.L. Kennedy – Book Review
Uncle Shawn and Bill Book Three – Book Review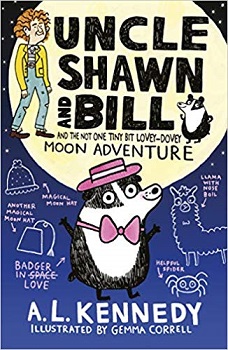 Uncle Shawn and Bill
and the Not One Tiny Bit Lovey-Dovey Moon Adventure
Author – A.L. Kennedy
Publisher – Walker Books
Pages – 272
Released – 6th June 2019
ISBN-13 – 978-1406386264
Format – ebook, hardcover
Reviewer – Stacey
Rating – 4 Stars
I received a free copy of this book.
This post contains affiliate links.
Uncle Shawn and his best friend Badger Bill are back for another brilliantly bonkers adventure. They've seen off the nasty Dr P'Klawz with the help of their trusty llama pals, and now everything on their farm up on the sunny side of Scotland is just about perfect.
Apart from the moon needing rescuing and a suspicious lady badger setting her sights on Bill… What could possibly go wrong?

Uncle Shawn, Badger Bill, and the Llamas are back in the third book in the series featuring farmer Shawn and his furry friends. The first two books, 'Uncle Shawn and Bill and the Almost Entirely Unplanned Adventure' and 'Uncle Shawn and Bill and the Pajimminy-Crimminy Unusual Adventure' were such a delight to read that I couldn't wait to start on book three.
This time there is something wrong with the moon. It has been full for a whole three weeks and it is no longer granting Uncle Shawn's wishes. Badger Bill is in love with a lady Badger who isn't as nice as he thinks she is and one Sylvester Pearlyclaws is back from the belly of the whale where Uncle Shawn put him and he wants his revenge.
Can Uncle Shawn, Badger Bill and the Llama's save the day, again?
All the books in the series can be read as standalones, so if you haven't read the first two, then no worries you can enjoy this one on its own. The book, like the previous two, is filled to the brim with comical moments. From the words the characters use to their actions and the amusing illustrations that adorn most of the pages.
The chapters are short and include a brief introduction to what is going to happen in each one. I always love short chapters as I feel they keep the book moving at a great pace and allows the book to be steered into a slightly different direction each time.
The book is quite tongue-in-cheek and so amusing. You will often find yourself laughing-out-loud, well I certainly did, at all the silly moments that this eccentric family get up to. The Llamas are my favourite, especially Brian.
This is a series that has grown in strength with each book and I hope that there will be more to come in the future.
Book Reviewer – Stacey
---
Purchase online from:
---
What did you think of the book? Share your thoughts in the comment section below!
---
The above links are affiliate links. I receive a very small percentage from each item you purchase via these link, which is at no extra cost to you. If you are thinking about purchasing the book, please think about using one of the links. All money received goes back into the blog and helps to keep it running. Thank you.