Muck and Magic by Michael Morpurgo – Book Review
Muck and Magic by Michael Morpurgo – Book Review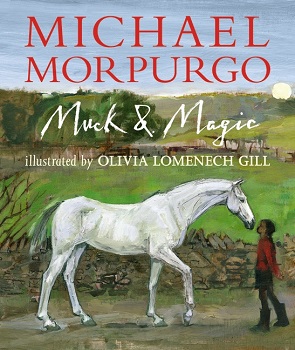 Muck and Magic
Author – Michael Morpurgo
Publisher – Walker Books
Pages – 64
Released – 6th June 2019
ISBN-13 – 978-1406364583
Format – ebook, paperback
Reviewer – Stacey
Rating – 4 Stars
I received a free copy of this book.
This post contains affiliate links.
A beautiful countryside story for Michael Morpurgo fans, illustrated by Olivia Lomenech Gill (J. K. Rowling's Fantastic Beasts and Where to Find Them).
Bonny has always wanted to be a top cyclist, maybe even a future Olympic champion. But her world changes after meeting a sculptor named Lizzie, who gives her a job on her farm. Bonny is introduced to a life-sized sculpture of Lizzie's horse and is allowed to pose as its rider, a completely magical experience.
She learns from Lizzie that a true gift is never to be wasted, and that if you "breathe the world in deep", you can do anything.

Twelve-year-old Bonny dreamt of being an Olympic cyclist like her hero Laura Trott. Cycling was a passion in her family with both her mum and dad loving the sport, though her dad couldn't ride anymore.
She was so fast that her mum decided it was time for her to start training on her own as she was holding her daughter back. So taking off on her new bike she rode far and fast into the Dales until she saw a field with three horses in it. Taking her eyes off the road she tumbled from her bike.
There was something about those horses she couldn't get out of her mind. Every day she rode her bike past them, taking them carrots. Her passion had always been the bike until the lady who owned the horses offered her a job looking after them.
The lady, Lizzie, was an artist, a sculptor. She had made some beautiful animal statues. Having her eyes opened to the world of sculpting, Bonny's dreams of being an athlete were put to one side.
There is always something magical about Micheal Morpurgo's books. You might start out thinking that you are getting a beautiful story but underneath there are always elements of something more occurring within the pages.
Muck and Magic is a book that makes you realise that you can have more than one passion. That sometimes life sends you in a different direction than what you thought it would and that you have to believe in yourself.
The book is a quick read at just 64 pages and some of those are filled with full-page illustrations that are just amazing, I especially love the artwork at the edges of them that show you the animals in the picture roughly hand drawn and in different positions.
The book is truly heart-warming, especially the end. It is a straightforward book about a little girl and her dreams and friendship with Lizzie and is quite simply beautiful.
Book Reviewer – Stacey
---
Purchase online from:
---
About the Author

Michael Morpurgo is the author of many books for children, five of which have been made into films. He also writes his own screenplays and libretti for opera.
Born in St Albans, Hertfordshire, in 1943, he was evacuated to Cumberland during the last years of the war, then returned to London, moving later to Essex. After a brief and unsuccessful spell in the army, he took up teaching and started to write. He left teaching after ten years in order to set up 'Farms for City Children' with his wife. They have three farms in Devon, Wales and Gloucestershire, open to inner city school children who come to stay and work with the animals.
In 1999 this work was publicly recognised when he and his wife were awarded an MBE for services to youth. He is also a father and grandfather, so children have always played a large part in his life. Every year he and his family spend time in the Scilly Isles, the setting for three of his books.


---
What did you think of Muck and Magic? Share your thoughts in the comment section below!
---
The above links are affiliate links. I receive a very small percentage from each item you purchase via these link, which is at no extra cost to you. If you are thinking about purchasing the book, please think about using one of the links. All money received goes back into the blog and helps to keep it running. Thank you.