Uncle Shawn and Bill by A.L. Kennedy – Book Review
Uncle Shawn and Bill by A.L. Kennedy – Book Review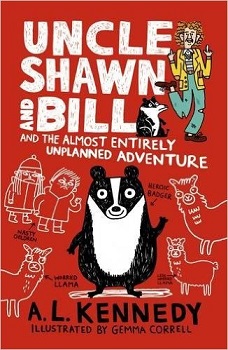 Uncle Shawn and Bill


and the Almost Entirely Unplanned Adventure
Author – A.L. Kennedy
Publisher – Walker Books
Pages – 160
Release Date – 2nd February 2017
ISBN-13 – 978-1406360493
Format – ebook, hardcover
Reviewer – Stacey
I received a free copy of this book
Post Contains Affiliate Links

Badger Bill needs rescuing. He's been kidnapped by two nasty sisters who are about to make him fight a boxing match against three even nastier dogs.
The four most depressed llamas in the history of llamas need rescuing too. They are about to be turned into llama pies.
But never fear – Uncle Shawn is here! He loves rescuing things. He has a rescuing plan, which involves dancing, and a mole, and an electric fence. What could possibly go wrong?

Bill the badger had found himself lost far from home. All of a sudden he was shoved into a stinky bag and thrown over someone's shoulder, someone was kidnapping him. When he was finally set free he came to be standing in front of two very large women, women as tall as a bus, and with no necks. The women told him that he was going to become a fighter and that his first fight would be in two days. Oh, and he had to wear red shorts too.
Nearby four llama's were wet, tired, hungry and nearly bald after they had been deceived into living on the best llama farm ever. Farmer McGloone only wanted the llama's for their fur, but as they weren't producing enough he had decided to kill them and make handbags, belts, and even pies out of them. This made the llama's even more sad.
Walking nearby, Uncle Shawn, who happened to be an animal lover, noticed Bill's paw prints, and from them he realised that Bill had been kidnapped. He decided to followed the human prints that were in the mud, to rescue him. He soon found himself on a farm, he decided he needed a plan to rescue Bill, then he noticed the llama's and decided he needed a plan to save them too. Will Uncle Shawn's plan work though?
Uncle Shawn and Bill and the Almost Entirely Unplanned Adventure, is a book that will have children laughing out loud, with it's hilarious, strange plot, and the even funnier black and white illustrations.
A.L. Kennedy writes in such a way that kids will find themselves hooked on the book. His word choices are definitely aimed to impress the youngsters, especially with his funny antidotes, and descriptions of the nasty McGloone family.
I can see Uncle Shawn and Bill being a real hit with the kids.
Book Reviewed by Stacey
Purchase Links