The Little Book of Hygge by Meik Wiking – Book Review
The Little Book of Hygge by Meik Wiking – Book Review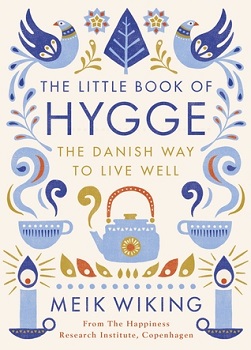 The Little Book of Hygge


The Danish Way to Live Well
Author – Meik Wiking
Publisher – Penguin Life
Pages – 288
Release Date – 1st September 2016
ISBN-13 – 978-0241283912
Formats – ebook, hardcover, audio
Reviewer – Stacey
Post Contains Affiliate Links

Denmark is often said to be the happiest country in the world. That's down to one thing: hygge.
'Hygge has been translated as everything from the art of creating intimacy to cosiness of the soul to taking pleasure from the presence of soothing things. My personal favourite is cocoa by candlelight…'
You know hygge when you feel it. It is when you are cuddled up on a sofa with a loved one, or sharing comfort food with your closest friends. It is those crisp blue mornings when the light through your window is just right.
Who better than Meik Wiking to be your guide to all things hygge? Meik is CEO of the Happiness Research Institute in Copenhagen and has spent years studying the magic of Danish life. In this beautiful, inspiring book he will help you be more hygge: from picking the right lighting and planning a dinner party through to creating an emergency hygge kit and even how to dress.
Meik Wiking is the CEO of the Happiness Research Institute in Copenhagen. He is committed to finding out what makes people happy and has concluded that hygge is the magic ingredient that makes Danes the happiest nation in the world.

The Little Book of Hygge, isn't the type of book that I would normally choose to read, but something drew me to it, perking my interest. I kept on hearing about 'hygge'. Everyone was talking about it, so I decided to investigate myself, though I will admit that I was drawn to this book about the subject, rather than the artwork on the cover.
Hygge is all about living better, how to live 'in the now', calmly and more happily. According to statistics, the Danes are the happiest people on the planet, and according to the author, their 'hygge' lifestyle is the reason for this.
We are taught, and shown by the vast amount of photos in the book, how the Danes live their daily lives and how they relax. From open fires, eating tasty food, spending time with friends, riding their bikes, there are numerous ways that they feel 'hygge' everyday.
I spent quite a while reading this book, feeling the urge not to rush it, so I read a couple of chapters daily, letting the information sink in.
I loved the book, the explanations of what 'hygge' is, and how to achieve it. Yes the author does repeat himself a lot, going over about the same things, but this book isn't all about hot chocolate, and roaring fires, it is much, much more.
Will I take away anything from this book, and use it in my daily life? Maybe to use candles more. I already have lots around the house, just never light them. Apart from that I'm very doubtful. What I will take away from the book though, is the knowledge of how a lot of the Danes live, their culture and how it makes them happy.
Would I recommend The Little Book of Hygge, wholeheartedly. Now I'm off to go and feel miserable again, in this dull and cold British weather 🙂
Book Reviewed by Stacey
Purchase Links